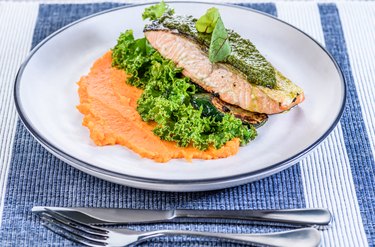 Kahawai are firm, silvery fish found in the ocean waters of New Zealand and Australia. Kahawai are also referred to as sea trout or Australian salmon. The meat of Kahawai is fatty with a strong taste, similar to Chinook or Coho salmon.
Prepare Kahawai in foil packets with herbs to lock in flavor. Cooking fish in foil packets also keeps the moisture in, ensuring that your fish does not dry out. Cleaning is also a breeze when you prepare Kahawai in foil packets.
Things You'll Need
1 tbsp. extra-virgin olive oil

2 cloves garlic, minced

1 tsp. dried dill

1 tsp. dried parsley

1 tsp. ground black pepper

1 tsp. salt

Small bowl

4 Kahawai fillets, 1 lb. total

4 pieces of foil, 14x12 inches each

1 medium onion, thinly sliced

1 lemon, thinly sliced

Baking sheet
Preheat the oven to 425 degrees Fahrenheit.
Combine the olive oil, garlic, dill, parsley, black pepper and salt in a small bowl.
Place each Kahawai fillet on a piece of foil.
Spread the olive oil and spice mixture over each piece of fish, distributing it evenly amongst the pieces.
Flip each fillet over to rub the mixture on each side of the fish.
Top each fillet with the onion and lemon, distributing it on to the four fillets evenly.
Fold up the edges of the foil packets. Fold and crimp the edges of the foil together so that you have four tightly-sealed packages.
Place the foil packets on a baking sheet in a single layer.
Bake for around 15 minutes or until the fish flakes easily.
Serve hot with rice and steamed broccoli (optional) for a complete meal.