Eating chocolate-covered coffee beans will give you energy because chocolate and coffee beans both contain caffeine. Caffeine is a chemical that affects your central nervous system and increases mental alertness, enhances physical performance and alleviates the feeling of being tired. To prevent potential complications, talk with your doctor before eating chocolate-covered coffee beans if you are currently taking any medications.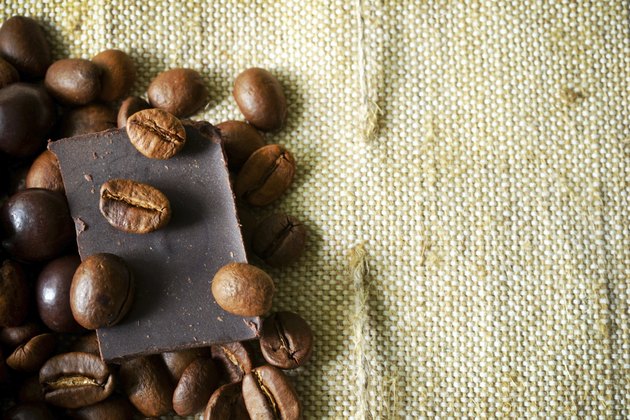 Caffeine Consumption
Caffeine affects every person in a different way. Eating chocolate-covered coffee beans will provide you with a significant amount of caffeine, depending on how many you consume in one sitting. Unlike brewed coffee, chocolate-covered coffee beans are ingested whole, so you ingest every bit of caffeine in the bean. It is possible to overdose on your caffeine intake. Eat chocolate-covered coffee beans with caution if you consume other foods and beverages that contain this drug. If you develop any side effects from eating chocolate-covered coffee beans, call your doctor.
Side Effects
While chocolate-covered coffee beans can provide you with a boost of energy, the caffeine content may cause adverse reactions. Common side effects of caffeine include hypoglycemia, hyperglycemia, dizziness, diarrhea, an increase in heart rate, tremors, sleeplessness, nausea, vomiting and abdominal pain, according to Drugs.com. Along with providing energy, this food can also make you jittery, excited and anxious. If you suffer from anxiety you should not consume products that contain caffeine.
Using In Moderation
Every coffee bean and brand of chocolate will provide a different amount of caffeine, but an average chocolate-covered bean contains between 3 and 5 milligrams of caffeine. For comparison's sake, note that a standard 8-ounce cup of coffee contains between 102 and 200 milligrams of caffeine, according to the Center of Science for Public Interest. MayoClinic.com states that an individual should not consume more than 500 to 600 mg of caffeine per day. Caffeine is found in a wide variety of products, such as energy drinks, sports drinks, certain medications, tea and coffee. Do not use chocolate-covered coffee beans to replace sleep.
Allergy Warning
If you develop abnormal symptoms, you may have an allergy to caffeine, cocoa beans or dairy. Chocolate-covered coffee beans may trigger an allergic reaction, which can cause shortness of breath, lip swelling, throat swelling, stomach pain, hives, skin rashes, nasal congestion and vomiting, according to the American Academy of Allergy, Asthma and Immunology. If you experience these symptoms, see a doctor. Your doctor may perform allergy tests to provide you with a clinical diagnosis.