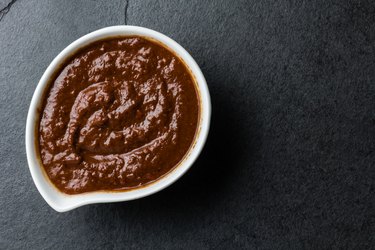 Mexican chicken mole is a complicated dish cooked from scratch, so when you're looking to fix a quick and tasty midweek version, a jar of Dona Maria mole sauce, or a similar brand, can be a godsend.
For the simplest version of mole sauce using this classic store cupboard ingredient, all you need to do is follow these instructions as given on the jar:
Mix one part of mole paste with 3 ½ parts water or stock in a pan.
Stir constantly over low heat until boiling (above 210 degrees Fahrenheit).
Keep the sauce simmering on low heat for four minutes.
Serve warm over cooked chicken. Refrigerate unused product in a sealed container.
Dona Maria Mole Nutrition Credentials
The manufacturer's website says that a serving of 1 ½ tablespoons, or 27 grams, of Dona Maria mole sauce contains 150 calories, 11 grams of fat (including 1.5 grams saturated fat), 4 grams (a teaspoon) of added sugar and 330 milligrams of sodium (14 percent the Daily Value ) The ingredients are:
Soybean oil
Crackers
Chile peppers
Sugar
Sesame seeds
Peanuts
Wheat bran
Iodized salt
Less than 2 percent other ingredients, including color and flavors
According to Registered Dietitian Helen Bond, many ready-to-use grocery store sauces have high sodium and sugar contents. Dona Maria mole is no exception, particularly given you'll almost certainly help yourself to a bigger serving size that the one suggested.
Bond tells LIVESTRONG.com: "Serving sizes for cooking sauces are often huge underestimates of what you'd realistically use. My advice would be to measure out properly. And if you use stock in your recipe, go for a low-sodium version so you're not adding lots more of this dietary component that can raise blood pressure."
Dona Maria mole sauce will work well with roasted or pan cooked chicken drumsticks and thighs, but to keep it healthier, go for grilled or baked chicken breasts. The American Heart Association recommends skinless chicken as a healthier form of protein that can help keep cholesterol levels lower.
Chicken Mole Variations to Try
For a change, you could try other variants of the classic chicken mole. There is a Dona Maria pipian recipe sauce available, and one for mole adobo, too. Or if you prefer, you can just use the original variety and customize it to your own tastes.
If you enjoy playing around in the kitchen with your own culinary creations, the following are some ingredients that can work well as additions to the classic Dona Maria mole sauce.
Peanut butter or peanuts
Tomato sauce
Dark chocolate (at least 70 percent cocoa solids)
Spices including cumin, ground cinnamon and cinnamon sticks and ground anise seed
Chipotle peppers
Toasted sesame seeds
Instant coffee
White long grain rice is the classic accompaniment to a chicken mole dish, but healthier brown rice works really well too, particularly brown basmati. Add a leafy salad with a good handful of cilantro thrown in as a healthy side.