Moles are pureed sauces that originated with the Aztecs, according to Zarela Martinez, author of "The Food and Life of Oaxaca." They are based on dried chilies, toasted and ground with nuts or seeds that provide the thickening. They contain a variety of dried or fresh herbs and spices, as well as roasted tomatoes, tomatillos, onion, garlic and fresh chilies. All the ingredients are prepared in an elaborate procedure to make a rich, thick, complex condiment used as a filling for tortillas or a sauce for prepared meat. Many Mexican home cooks use Dona Maria or other brands of bottled sauces to speed up the process of making chicken mole.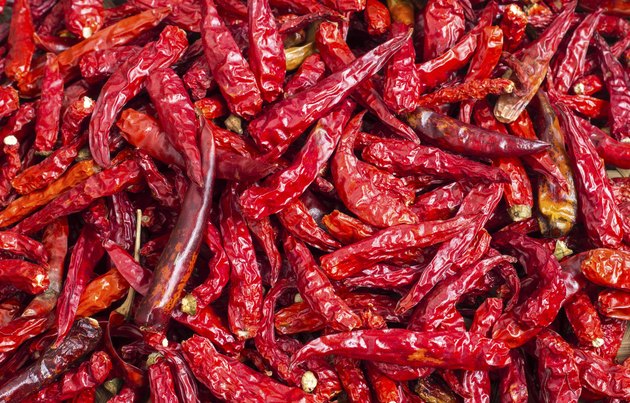 Step 1
Rinse the chicken pieces under running water and pat them dry with paper towels. Season them generously with salt and pepper.
Step 2
Heat 2 tbsp. of oil in a large skillet over medium-high heat. Brown the chicken pieces on all sides. As they brown, remove them from the skillet to a plate.
Step 3
Pour off any excess fat, leaving about 1 tbsp. of fat in the frying pan. Add the mole sauce and stir it over medium heat for one to two minutes, until the mole begins to simmer.
Step 4
Stir in the chicken broth and keep stirring until the ingredients are well-combined. If you are using peanut butter, stir it in now.
Step 5
Put the browned chicken into the mole sauce, and bring the sauce to a boil.
Step 6
Reduce the heat to low, cover the skillet and simmer the chicken and sauce for about 20 minutes, until the chicken is done. Test by cutting into the largest piece of chicken to see whether all the pink color is gone.
Step 7
Serve the chicken with rice and beans. Use the mole sauce as a gravy. Garnish the chicken with sesame seeds, if you are using them.
Things You'll Need
1 chicken, cut into 8 pieces

Paper towels

Salt

Pepper

2 tbsp. oil

Large skillet

Plate

1 (8.25-oz.) jar Dona Maria Mole

4 cups chicken broth

1/4 cup sesame seeds or peanut butter
Tips
Browning the chicken adds flavor to the dish. However, you can also poach the chicken in the chicken broth. Then make the sauce by stirring the jar of mole into the broth, and simmer the chicken in the mole sauce until done.
Use sliced, toasted almonds as a garnish instead of sesame seeds.