For very few calories, celery adds vitamins, minerals and fiber to your diet. But the perks of celery go down if it dominates your diet. You may experience a decrease in other nutrients, experience bowel problems and expose yourself to high doses of pesticides. Don't give up on these green stalks. Just aim for a daily single serving -- about two 12-inch stalks -- rather than making them the main food you eat.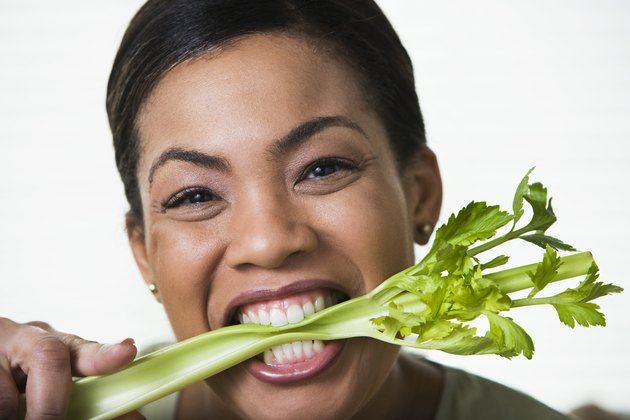 Malnutrition Issues
If celery makes up the majority of your diet, you're probably not getting adequate amounts of all of the nutrients you need. Celery has decent amounts of vitamins K and A, for example, but it's lacking in most B vitamins, as well as vitamins C, D and E. Celery contains some calcium, magnesium, phosphorus, potassium, iron, zinc and sodium, albeit very small amounts. Even if you ate a lot of celery to get as much of these nutrients of possible, you could still become malnourished over time. Signs of malnourishment include rapid weight loss, poor energy levels, diminished wound healing, inability to focus and feeling cold all of the time.
Gastrointestinal Problems
One large 12-inch stalk offers about 1 gram of fiber. While that's not a lot of fiber, eating several stalks of celery throughout the day can quickly add up. If you don't normally follow a high-fiber diet or you start going well above your recommendation, you're more likely to experience bloating, gas, diarrhea or abdominal cramping. Work your way up to the recommended 28 grams of fiber for a 2,000-calorie diet, or 14 grams per 1,000 calories, according to the Dietary Guidelines for Americans 2010. Have a stalk of celery here and there to help you reach your goals, just don't have so much that it makes your stomach hurt.
Pesticide Dangers
Your exposure to pesticides goes up if you eat excessive amounts of celery. Celery is notorious for being a pesticide-rich vegetable -- unless you opt for organic. It's highly likely to absorb and hold on to many of the pesticides used out in the fields. While small amounts of pesticides may be safe for humans, in large doses you could run into problems. In addition, some pesticides can irritate your skin if you come into contact with them, reports the Environmental Protection Agency. The EPA further explains that consuming pesticides can affect your central nervous or endocrine systems.
Goiter Concerns
Natural food chemicals in celery can inhibit your body's ability to properly utilize iodine. Your thyroid relies on iodine to function and produce hormones. When your iodine levels drop, your thyroid gland becomes enlarged, possibly leading to goiter. This condition leads to a visible lump on your neck, depending on the severity, in addition to abnormal hormone levels. In excessive amounts, celery -- particularly uncooked celery -- can lead to an iodine deficiency and goiter over an extended period of time.