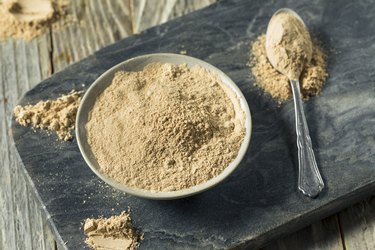 Both horny goat weed and maca have been used for centuries in traditional medicine — in China, horny goat weed is commonly used to treat erectile dysfunction and fatigue. Maca, on the other hand, has been used by native Peruvians for its sexual enhancing properties and high nutrient content.
Tip
The benefits of horny goat weed and maca include their ability to alleviate the symptoms of sexual dysfunction in both men and women. Horny goat weed is also used in traditional Chinese medicine to treat pain associated with arthritis, as well as to quell the effects of fatigue.
The Memorial Sloan Kettering Cancer Center explains that horny goat weed is an herb that is often also called epimedium, yin yang huo, inyokaku and "herb epimedii." Horny goat weed has been commonly used for centuries, in both Ayurveda and traditional Chinese medicine, for its purported health benefits. It is prescribed to treat everything from the symptoms of arthritis and nerve pain, to fatigue and erectile dysfunction in males.
Maca is a perennial tuberous plant that has been grown and cultivated in the Andean mountains for centuries. Maca thrives at high altitudes, where the tuber is either ground into a powder or boiled in water and eaten (much like potatoes).
It has traditionally been used for its nutritive properties — it's high in minerals like calcium and potassium and macronutrients like carbohydrates and protein, while low in fat — as well as for its ability to alleviate the symptoms of sexual dysfunction in women.
Benefits of Horny Goat Weed
According to the National Institute of Diabetes and Digestive and Kidney Diseases, erectile dysfunction can be defined as the inability to keep a firm erection during sexual intercourse. Erectile dysfunction can occur for a number of reasons, and is diagnosed if a patient is unable to sustain an erection repeatedly. Erectile dysfunction is often exacerbated by kidney diseases, and in patients with cancer.
The Memorial Sloan Kettering Cancer Center explains that in traditional Chinese medicine, horny goat weed supplements are prescribed to patients experiencing the symptoms of erectile dysfunction. It's also used to treat loss of libido, and for people with pain during sexual arousal.
In an October 2017 study published in ​Frontiers in Pharmacology,​ researchers found that icariin, one of horny goat weed's major active constituents, expresses protective mechanisms against the spread and proliferation of cardiovascular diseases. Icariin exhibits both anti-inflammatory and antioxidant properties, allowing it to protect against atherosclerosis and damage to DNA molecules.
Icariin is also responsible for the estrogenic effects in women with menopause and PMS. According to an October 2016 study published in ​Pharmacological Reviews​​,​ horny goat weed alleviates the symptoms of both menopause and PMS in women, by increasing the levels of estrogen. However, more clinical trials need to be carried out to assess these claims before horny goat weed can be given as a supplement for women with menopause and PMS.
According to USDA FoodData Central, a 100-gram serving of organic maca powder offers 400 calories and is low in fat. It also contains 20 grams of protein, 80 grams of carbohydrates and 20 grams of total dietary fiber. Maca powder is especially high in minerals like calcium and potassium, with a 100-gram serving containing 260 milligrams of calcium.
Calcium is an essential mineral the body requires for strong bones and teeth, as well as regular functioning of the body's muscles and heart. Maca powder also contains 1,580 milligrams of potassium per 100-gram serving. It is an essential electrolyte required by the body in order for muscle contraction to occur, as well as for proper kidney function and nerve conduction.
Although the January 2017 study published in the ​Pakistan Journal of Pharmaceutical Sciences​ was conducted on mice rather than humans, its findings are worth mentioning because it shows that maca proved to be an effective treatment for impotent mice. It also worked for reducing their overall levels of stress.
Findings of a small March 2015 study of 45 women published in ​Evidence-Based Complementary and Alternative Medicine​ indicate that maca may also work as an effective treatment method for women with antidepressant-induced sexual dysfunction (AISD). A dose as small as 3 milligrams of maca per day is enough for women with AISD to experience an uptick in sexual activity and a recovery of libido.