A diet that is too high in sodium can contribute to many health problems, including fluid retention in various areas of the body, including the ankles, weight gain, high blood pressure and heart disease. Each individual's sensitivity to sodium is different. If you are living with swollen ankles, you and your doctor will need to work together to determine how much sodium is OK to have in your diet.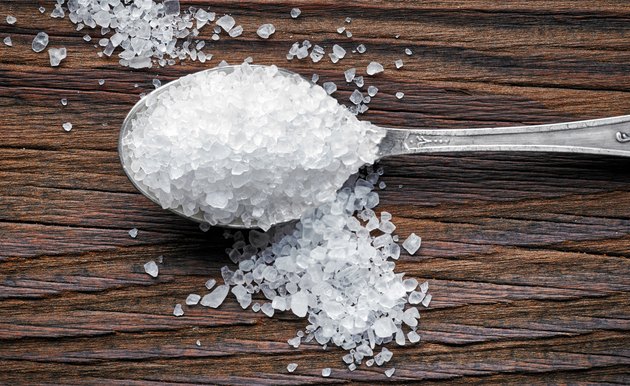 Ankle Swelling and Salt Intake
Ankle swelling -- also called ankle edema -- is diagnosed when there is an abnormal buildup of fluid in the ankle joint. Ankle edema has many causes, so the underlying cause should be properly diagnosed. However, salt retains water, and if you eat too much, the level of fluid in your body may build up too high and contribute to edema in any area of the body, including the ankles. Since it is harder for the heart to pump fluid out of the legs and up against gravity, swelling tends to be more noticeable in the lower extremities, according to the Medline Plus website. Treatment depends on the underlying cause but usually includes restricting salt intake.
Symptoms
Ankle swelling does not always cause pain, but it may be accompanied by other symptoms. This includes general aching and stiffness in the ankles. The skin may not indent when pressed, or it may retain the indent and not bounce back. The skin may appear shiny and weight gain can be rapid. Ankle swelling may come and go or be present all the time; in either case, a physician can run tests to determine the cause. In some cases ankle swelling can be a warning sign of kidney, liver or heart disease, reports the State Government of Victoria website. Lung disease, some cancers, arthritis, thyroid conditions and allergic reactions can also cause ankle swelling.
Daily Intake
Limiting the amount of salt you consume will not only help to control ankle swelling or edema, but it can also control high blood pressure. A low salt diet can lessen breathing difficulties and swelling that occur when fluid accumulates because your heart is too weak to pump the excess fluid out of the body, notes the Cleveland Clinic. A general guideline is to consume no more than 2,000 milligrams of salt per day, which is less than one teaspoon of table salt. You may need to go even lower depending on how sensitive your body is to salt, because a sensitivity to salt means that your body retains more than a person who is less sensitive.
Solution
Reducing the amount of salt you consume takes some work. While it is important to stop shaking salt on your food when cooking or dining, it is also essential to learn to read nutrition labels. Processed and packaged foods tend to be high in sodium, as do restaurant foods. Food does not need to taste salty to be high in salt.'
Limit intake of foods that list monosodium glutamate, baking soda, baking powder, disodium phosphate, sodium alginate or sodium nitrate in the ingredient list. Carefully read nutrition labels, because foods that claim to be reduced or light sodium foods can still be quite high. Reading the nutrition label is the only sure way to know how much sodium you are getting in each serving size.