Most protein powders direct you to mix them in water or another liquid. This goes for just about any type of powder -- including whey, casein, soy, egg and vegan options. Water isn't always the most palatable choice, but it does guarantee that the only protein and nutrients you get in your shake are those listed on the powder packaging. Adding milk instead may boost the protein and nutrient value of the shake, as well as the flavor.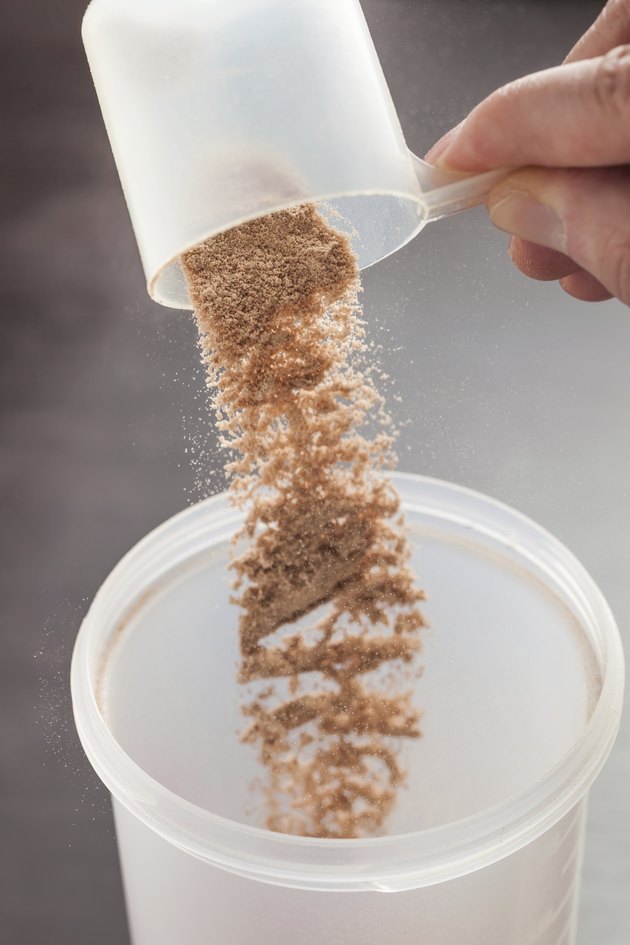 Calorie Considerations
Pure protein powders usually contain between 80 and 100 calories per serving. If you're following a strict diet and conserving every calorie, you'll want to mix the powder with water so as not to increase the calorie load. Skim and low-fat milk add 83 to 122 calories per cup. Whole milk adds 149 calories per cup.
Additional Nutrients
Depending on the type of protein powder you use, you typically get between 0 and 4 grams of carbohydrates per serving -- some brands may have more if sugar is added. Adding milk will add between 11 and 12 grams per cup. Pure protein powders are all usually free of fats as well. Skim milk adds only trace amounts of fat, but low-fat adds 2 to 5 grams per cup, and whole milk adds about 8 grams. Using milk in lieu of water to mix your shake will boost the overall nutritional content of your shake, though, by adding additional calcium, vitamin D, potassium and phosphorus.
Protein Changes
Adding milk instead of water actually boosts your shake's protein content by about 8 grams per cup. The type of proteins in milk are primarily casein and whey. Milk's proteins provide a complete array of amino acids that are easily digested. If you're sensitive to whey or casein protein, lactose-intolerant or vegan, you should of course steer clear of using cow's milk to blend your powder. Soy, almond, rice and coconut milks are alternatives, but they will differ in the amount of protein as well as carbohydrates, fat, vitamins and minerals added.
Effect on Protein Synthesis
Protein shakes are commonly consumed after a workout to boost recovery and repair of worked muscles. Some avid bodybuilders avoid adding milk to the powder for fear that its casein and carbohydrates will slow the flow of the powder's amino acids to their muscles. However, milk is effective for post-exercise recovery and enhances muscle protein synthesis -- a step in the muscle-building process. The Journal of the International Society of Sports Nutrition published a study in 2014 showing that quick-digesting milk protein made up primarily of casein taken twice per day reduced muscle fatigue following difficult resistance-training sessions. In 2007, a study in the British Journal of Nutrition concluded that milk is effective in providing rehydration after exercise. A 2006 issue of Medicine and Science in Sports and Exercise showed that milk drunk after resistance exercise leads to an increase in muscle protein synthesis.