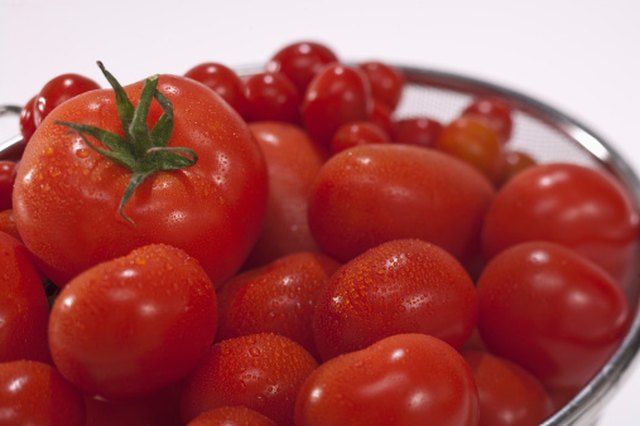 Gout is the most common form of inflammatory arthritis among men, according to the Centers for Disease Control and Prevention. It develops when excess uric acid forms crystals in a single joint. Pain and swelling might come on suddenly and last for days, weeks or longer. In addition to medical treatments, dietary changes might help manage your symptoms. Gaining understanding of the potential benefits and risks associated with tomatoes might guide you toward making appropriate dietary choices.
Benefits
Tomatoes contain rich amounts of antioxidants, including vitamin C and lycopene, which support your body's ability to resist and heal from infections and disease. As low-calorie foods, tomatoes might help ease the process of weight management, which is important for reducing joint pain caused by added pounds. MayoClinic.com recommends eating more complex carbohydrates, including fruits and vegetables, and fewer sugary, high-calorie foods for improved gout symptoms. Consuming plentiful amounts of fluid can help your body flush excessive uric acid out through urine. Like most fruits and vegetables, tomatoes are extremely rich in water.
Risks
While tomatoes in their natural form are highly nutritious, many tomato products, such as prepared pasta sauce, ketchup, tomato soup and tomato juice, contain rich amounts of sodium. Avoiding excess sodium is important for managing arthritis. Consuming too much sodium increases your risk for high blood pressure and heart disease -- conditions prevalent among older and overweight adults. To avoid these risks, consume whole tomatoes or prepared foods with "no added salt" or reduced sodium content.
Theories
Some people believe nightshade vegetables, which include potatoes, eggplant, peppers and tomatoes, increase inflammation and arthritis pain. This theory has not been supported by substantial research. If you suspect that tomatoes or other foods worsen your symptoms, discuss your concerns with your doctor or dietitian.
Suggestions
Although tomatoes are nutritious and suitable for most gout patients, they should be consumed as part of an overall nutritious, balanced diet. In other words, simply eating more tomatoes is unlikely to greatly improve an otherwise poor diet. MayoClinic.com recommends eating more plant protein sources, such as beans, lentils and tofu, and less meat and seafood for improved uric acid levels and gout symptoms. Low-fat milk and yogurt might also help lower your uric acid levels. Drink plenty of water throughout each day and limit foods high in unhealthy fats, such as fried foods, cheese and heavy cream. For improved appetite control, digestive function and cholesterol levels, replace refined foods, such as white bread, with whole grains. Nutritious examples include oats, barley, brown rice, wild rice, air-popped popcorn and quinoa. Other nutritious fruits and vegetables include berries, citrus fruits, leafy greens, broccoli, brussels sprouts and squash.