Smoked sausages such as kielbasa, knockwurst and bratwurst are flavorful and quick-cooking, perfect for an easy dinner when you're short on time. Although these sausages are common grill companions, you can easily prepare them indoors when outdoor cooking isn't an option. Smoked sausages can be cooked in the oven or on the stove top, depending on your preference. Smoked sausages may be made from pork, beef or chicken, and each one offers a unique flavor profile. Try one of these sausages as the main course, or use them to add flavor and protein to soups, pasta and vegetable dishes.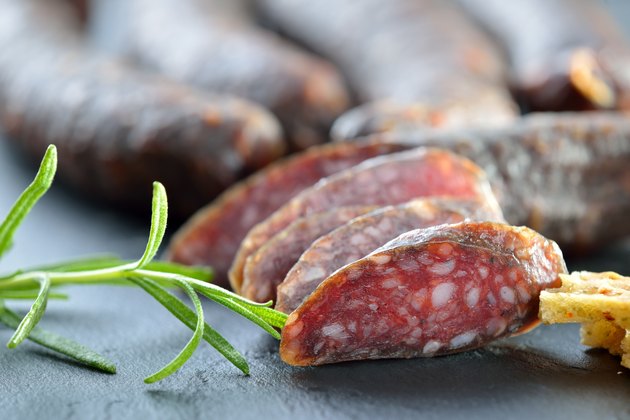 Pan-Frying Method
Step 1
Cut the sausage in half lengthwise or into 1/2-inch thick slices.
Step 2
Heat a lightly oiled skillet over medium heat.
Step 3
Add the sausage to the skillet and cook, turning occasionally, until they are browned and warmed through, about 6 to 9 minutes.
Pan-Heating Method
Step 1
Place the sausages in a skillet with about 1 inch of water.
Step 2
Bring the water to a boil, then reduce to a simmer and cover the skillet.
Step 3
Cook the sausages, turning once, until they are warmed through, about 10 minutes.
Oven-Baking Method
Step 1
Preheat your oven to 400 degrees Fahrenheit.
Step 2
Place a rimmed baking sheet or oven-proof skillet into the oven for 5 minutes. Lightly oil the pan, then return it to the oven and heat for 2 minutes more. Preheating the pan helps the sausages brown and cook quickly.
Step 3
Place the sausages in the pan in a single layer and cook until they are well-browned and warmed through, about 20 minutes. Flip the sausages over halfway through cooking.
Warning
Some smoked sausages are ready to eat upon purchase, but others need to be cooked before serving. Check the sausage's label if you're unsure. Sausages that need to be cooked should be heated to a minimum internal temperature of 165 F to ensure safe consumption.