Brining salmon before cooking intensifies its natural flavor and allows you to infuse additional flavors into the fish. For a traditional wet brine, submerge the salmon in a water, salt and sugar solution, along with any additional seasonings you prefer. Or dry-brine, or cure, the salmon in a salt and sugar mixture. Both hot or cold-smoked salmon are typically dry-brined first, as it help to pull the excess moisture out the fish.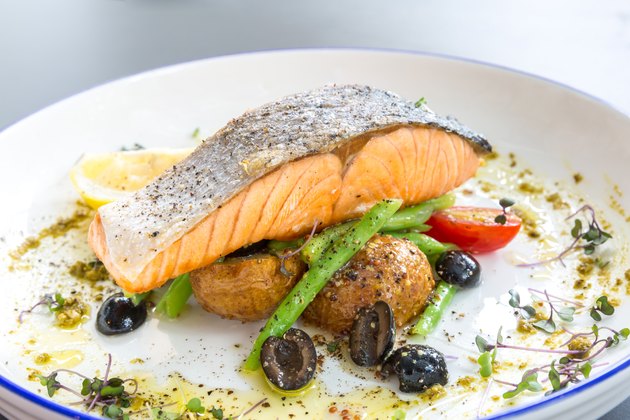 Wet Brine
Step 1
Combine water, salt, and white sugar and brown sugar in a large bowl. For every 2 quarts of water, use about 2/3 cup each of salt, white sugar and brown sugar, which is enough for up to 4 pounds of salmon. Adjust the amount of sugar to taste.
Step 2
Place the salmon fillets in a nonreactive, shallow container, such as a glass or ceramic baking dish. Pour the brine over the salmon until it is completely submerged.
Step 3
Cover the container with plastic wrap and place it in the refrigerator to brine for as long as 24 hours.
Dry Brine
Step 1
Combine salt and brown sugar in a large bowl. For every 1 to 2 pounds of salmon, use about 1/4 cup each of salt and brown sugar. Add additional spices by the teaspoonful until you reach your desired flavor. Use any spices you prefer, such as black pepper, garlic powder, paprika, coriander and cayenne pepper. You may also add grated lemon, lime or orange zest.
Step 2
Cover the bottom of a shallow, non-aluminum container with some of the dry brine mixture, just enough to fully coat the bottom. Lay the salmon, skin side up, on top of the dry brine, then pour the rest on top so that the salmon is completely covered.
Step 3
Cover the container with plastic wrap. Lay a heavy item, such as can of food or a brick, on top to weigh down the salmon, which will pull more of the moisture out of the fish. Store the fish in the refrigerator for eight to 12 hours.
Things You'll Need
Salt

Sugar

Brown sugar

Shallow nonreactive container

Plastic wrap
Tips
You can replace the sugar in the wet brine with maple syrup or honey for a different sweet flavor.
If you want to fully cure the salmon rather than cooking it, leave it in the dry brine, weighted down for at least 24 hours, then remove the skin and set on a wire rack in the refrigerator to dry out for another 24 hours.
Warning
Avoid using containers made of reactive materials, such as aluminum, to hold the salmon, as salmon contains a high amount of acids that could react to the aluminum, giving it a metallic taste.