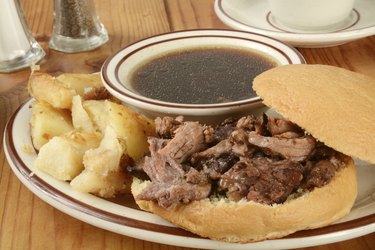 Au jus is a light beef juice commonly served as a dipping sauce for sandwiches or drizzled over the top of meat. In French, au jus means "with juice" or "with its own sauce." You can make au jus from beef base rather than using fresh beef stock for a more convenient preparation. Au jus made from beef base has a powerful flavor; add more water if it is too strong for your taste. Approximately 25 minutes is required to make au jus from beef base; this recipe yields 2 cups of juice.
Step 1
Combine the water, powdered beef base, chopped celery, chopped white onion, dried thyme, pepper and salt in a saucepan. Place the saucepan over medium-high heat.
Step 2
Stir the contents of the saucepan until they come to a boil and reduce the heat to medium-low.
Step 3
Simmer the contents of the saucepan for 15 minutes and remove it from the heat. Stir the liquid every two minutes to prevent it from burning to the bottom of the saucepan.
Step 4
Place a strainer over a mixing bowl and pour the contents of the saucepan through it. This removes the onion and celery from the au jus; discard them or save them for a different recipe.
Step 5
Serve the au jus while it is hot.
Things You'll Need
2 cups water

3 tbsp. powdered beef base

1/8 cup chopped celery

1/3 cup chopped white onion

1/2 tsp. dried thyme

1 tsp. ground black pepper

1/2 tsp. salt

Saucepan

Strainer

Mixing bowl
Tip
Refrigerate leftover au jus immediately and consume it within 72 hours. Alternatively, you can freeze the au jus and use it within six months.