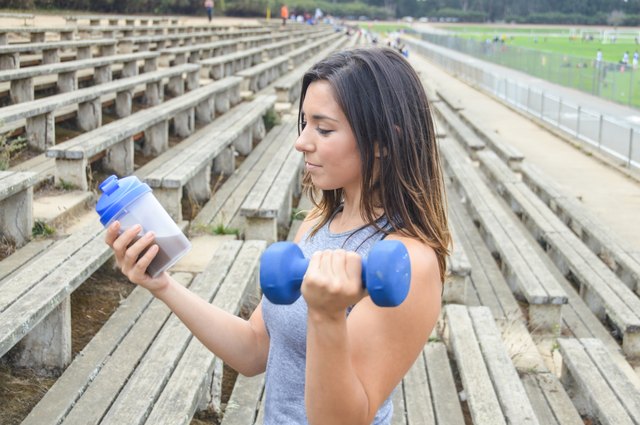 The use of amino acid supplements has been a favorite for athletes and bodybuilders since the 1970s. Amino acids and protein have been shown to help individuals increase muscle strength, recovery and size. No matter what amino acid or protein supplement you choose to purchase, all will require the supplement to be consumed orally.
What are Amino Acids?
All protein is made up of various amino acids. Amino acids have also been referred to as the building blocks of protein. Only 20 amino acids are utilized by the human body to make new proteins, such as collagen and muscle tissue. With this in mind, amino acid supplements will contain some, if not all, of the 20 amino acids.
Available Forms
On the current market, amino acids are currently available in three forms: capsule, powder or liquid. The capsule and powder forms are much more prevalent than the pre-mixed liquid form. In must be noted that the further broken down a protein is, the worse it will taste. It may be in your best interest to mix amino-acid powder with something sweet to take away from their taste.
Amino Acid Supplements
Not all amino acids are equal. There are two main categories of amino acids: essential and non-essential. Nine of the 20 amino acids are considered essential and include leucine, valine and methionine. They are considered essential because your body cannot make sufficient amounts of them on its own. The other 11 amino acids are considered non-essential. Non-essential amino acids include aspartic acid, glutamine and alanine.
Many amino acids supplements may contain just the essential amino acids and are often more expensive. Other amino acids supplements on the market contain a combination of all 20 amino acids and are less expensive than the ones containing only essential amino acids.
Recommended Use
Based on studies performed at the University of Texas Medical Branch and Metabolism Unit, we now know that only the essential amino acids are needed to cause protein synthesis. Based on additional research by Layne Norton, Ph.D., we know that leucine is the most anabolic of all amino acids, meaning that it will greatly increase protein synthesis and perhaps muscle growth. Based on Norton's research, you should attempt to consume at least 3 g of leucine when consuming an amino acid supplement because this has been shown to increase protein synthesis, or growth, to maximal physiological levels. Consumption of greater than 3 g of leucine does not promote any greater benefit, based on the study.
Consumption
Based on the three forms of amino acids on the market, all forms of amino acids supplements are consumed orally. So drinking of amino acids is the only way that these supplements can be consumed. In the clinical setting, some individuals are given amino acids, dextrose and lipids intravenously; however, this is not advisable for healthy individuals.