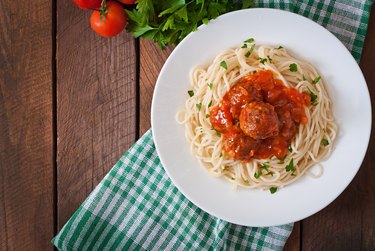 Tomatoes are a member of the deadly nightshade family and were originally considered poisonous when they were first introduced to England. In truth, tomatoes are full of healthy lycopene, beta carotene and several vitamins and minerals, according to the United States Department of Agriculture. Tomatoes have a lot of vitamin C, and certain tomato varieties have a lot of acid that can make the sauce bitter or sour. If your spaghetti sauce is too sour, you can sweeten it to make it more to your liking.
Step 1
Stir in sugar to make a very sweet sauce. If you prefer, you can use honey instead. Add the sugar 1 tsp. at a time, let the sauce simmer for two minutes and taste. The more sugar or honey you add, the sweeter your sauce will become.
Step 2
Add sweet vegetables to your recipe. Simmer 1 cup of shredded carrots or use sweet red pepper instead of green bell pepper. Sauté the vegetables in olive oil to express the sugars before adding them to the sauce. These vegetables will add a natural, mellower sweetness to your sauce than sugar or honey.
Step 3
Substitute yellow or orange tomatoes for half the tomatoes in your recipe. Yellow and orange tomatoes are less acidic than the red variety. By substituting half the tomatoes, you still get the red color but with less acid and sourness.
Step 4
Add sweet wines, such as lambrusco or white zinfandel, to the sauce. These sauces will add sweetness and the alcohol will also add more flavor to the sauce.
Step 5
Brown some sweet Italian sausage and add it to your sauce as it simmers. Sweet Italian sausage has spices such as anise that will add sweetness to the sauce. Use as much or as little sausage as you prefer. One lb. of sausage in 1 qt. of sauce makes a fairly meaty sauce.
Step 6
Combine any or all of the above. Make your sauce with a blend of tomatoes, add wine and sweet vegetables, simmer some sausage in the mix and throw in a dash of sugar to finish it off.
Things You'll Need
Sugar

Honey

Carrots

Sweet red peppers

Yellow or orange tomatoes

Sweet wine

Sweet Italian sausage