The gluteal muscles make up the largest muscle group of the body and are one of the most frequently exercised muscle groups of the body, according to Mark Anders of "ACE Fitness Matters." Exercises that target the glutes often also target the thigh muscles as well, so it is important to isolate the glutes while exercising so your quads and hamstrings don't take over all the work. Seated glute exercises help you feel the isolation of the gluteals and also provide an alternate way for older people or those with balance problems to exercise them.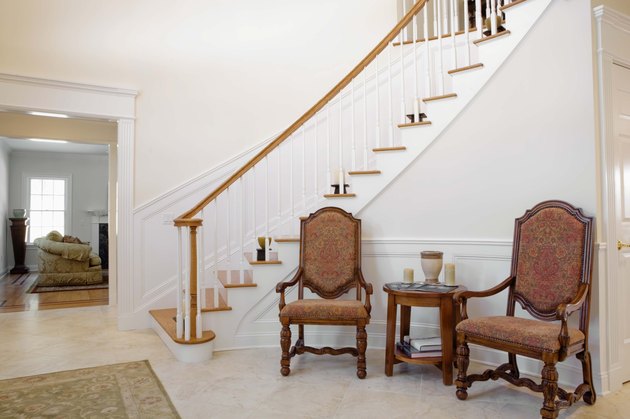 Chair Stands
Sit in the chair with your feet flat on the floor and cross your arms across your chest, placing your hands on the opposite shoulders. Activate your core muscles and stand up, keeping your weight in the heels of your feet. Keep your back and shoulders straight and lean slightly forward to help propel yourself upward. Squeeze your glutes together to help stabilize your body as you rise up. Avoid using your hands to push your body upward, as this will keep you from using your glutes to rise up. Slowly lower yourself back down to a seated position on the chair, count to 10 and repeat.
Chair Squats
Perform the same motion as in the chair stands, but rather than sitting back down in the chair, squat over the seat of the chair. You should tighten your glutes and hover just over the seat of the chair, not allowing your bottom to rest on the chair seat. Do not extend your knees over your toes as you lower your body toward the chair seat. Hold this pose for five to ten seconds before squeezing your glutes together to help you stand straight up.
Glute Squeezes
Sit in a reclining chair with your feet extended in front of you. As you squeeze your glutes together, you should notice your legs rotate slightly outward. This is because the glutes are the major external rotation muscles of the hips. Once you are comfortable with this movement, lower your legs and continue to perform the glute squeezes. You may also choose to alternate sides, squeezing the right glute then the left. Hold each squeeze for 5 to 10 seconds.
Seated Bridge
Sit in the chair with your feet flat on the floor and your back against the back of the chair. Press your feet into the ground and press your upper back against the chair. Squeeze your glutes and lift your rear and hips off the chair so your body makes a straight line from your knees to your shoulders. Hold this pose for 5 seconds, then release.