Around 40 percent of the people in the world -- including a large number of children -- consume cow's milk. In those areas of the world where pasteurization of milk isn't routine, many consumers boil milk before using it. Boiling milk imparts a number of health benefits in terms of food safety and fat levels, but may decrease milk's nutritional content and does not alter its lactose properties.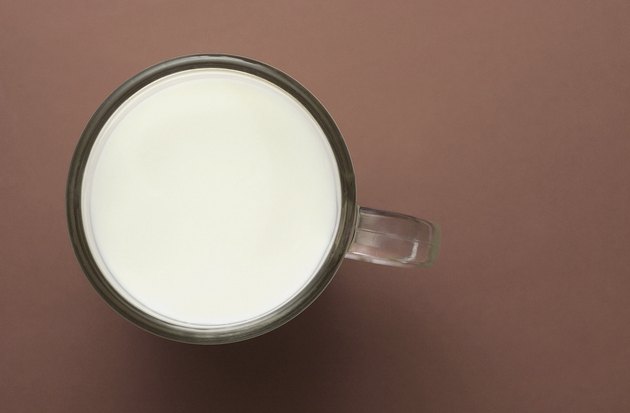 Food Safety
Boiling milk kills pathogens that cause illness in regions without access to pasteurized milk. Milk boils at a temperature at or above the boiling point of water, depending on the milk's fat and sugar content and the elevation at which the boiling occurs. This boiling temperature kills any bacteria and other microorganisms that may be in the milk. Before the advent of pasteurization, milk-borne illnesses like tuberculosis, diptheria and typhoid routinely killed many people, especially children, in regions of Europe where milk was consumed, according to the Centers for Disease Control and Prevention. Boiling milk made it safer to drink. Raw milk today may harbor E.coli, salmonella and other harmful bacteria. Modern pasteurization methods heat milk near to boiling for brief periods of time then cool it rapidly to minimize disruption of flavor and nutritional components, according to Ohio State University.
Fat Reduction
The fat content of high-fat milk, including that from cows or other animals, can be reduced by boiling the milk, cooling it, then skimming the fattiest portion that rises to the top, according to the United Nations University. While low-fat milk is available to most American consumers, only whole-fat or raw milk may be marketed in other portions of the world. When only whole milk is available, boiling and skimming is a valuable way to reduce the fat content of milk. Simmering skim milk to reduce its water content also creates a rich, nonfat condensed milk that can be used in place of cream in recipes or coffee, creating a satisfying creamy sensation without the added fats that contribute negatively to cardiovascular health.
Culinary Benefits
Boiled or pasteurized milk has a longer shelf life than raw milk, resisting spoilage for a longer period of time, according to Cornell University. Keeping milk from spoiling allows more convenient access to milk in those areas without refrigeration. Heating milk close to the boiling point, a cooking technique called scalding, destroys some of the enzymes, making it easier for milk to thicken in puddings and custards, according to chef Dave Katz. Scalding milk also helps bread rise higher when milk is used in bread recipes, which helps render healthful whole-grain breads lighter and more palatable. Boiling milk can also be infused with flavors from herbs or vanilla.
Considerations
Boiling milk will not reduce its lactose content. Lactose is a carbohydrate found in milk that must be broken down by the enzyme lactase, according to the Princeton University Materials Institute. Fewer than 40 percent of adults in the world lack sufficient lactase to process cow's milk without gastric discomfort, according to a 2009 "USA Today" report; boiling the milk won't improve this condition. Heating milk can also reduce its nutrient content and, in the case of boiling, affect the taste. Pasteurizing milk lowers the particularly thiamine, vitamin B12 and vitamin C content, but milk isn't a good source of these nutrients to begin with. the CDC explains..