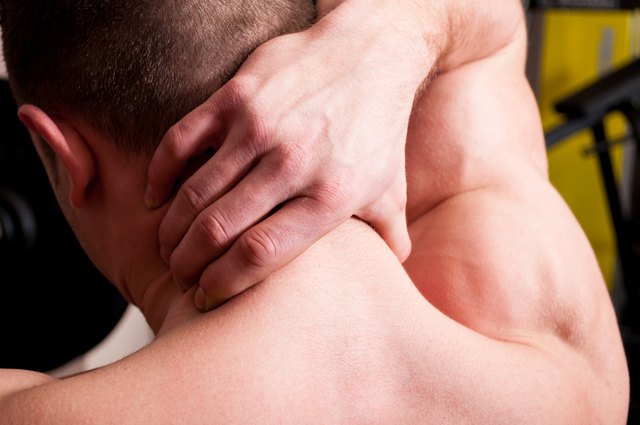 If you have trouble getting out of bed the day after your intense workouts, you may be looking for ways to reduce your post-workout muscle soreness. Muscle soreness is a common response after an intense workout session. However, unexplained muscle soreness can be a sign of a medical condition that should be treated by a physician. Taking whey protein may help reduce the symptoms of muscle soreness.
DOMS
Delayed onset muscle soreness is the painful feeling that you experience after exercise. This condition can occur soon after your exercise session or in the days following and can be extremely uncomfortable and may limit the physical activities you can undertake. According to professor Len Kravitz of the University of New Mexico, delayed onset muscle soreness has two primary causes. The first is lactic acid buildup within the muscle. However, Kravitz says that the primary source of delayed onset muscle soreness is tiny tears in muscle fibers known as muscle tears.
Whey Protein
Whey protein is a popular dietary supplement among athletes, particularly bodybuilders. Whey protein is formed from cow's milk and is typically found in powder form. According to the Whey Protein Institute, whey protein is a high-quality protein source that's easily digested by the body. Because it contains large amounts of muscle-building branch chain amino acids, whey protein is ideal for active people, according to the institute. Whey protein may also improve insulin sensitivity, boost immunity and promote heart health.
Evidence
Whey protein is a fast-digesting source of protein that can boost muscle recovery after strength training, the September 2007 issue of the "Journal of the International Society of Sports Nutrition" reports. This review paper cites a research study that found consuming whey protein immediately after a resistance training bout reduced symptoms of delayed onset muscle soreness. Whey protein accelerated the healing of muscle fibers -- the underlying cause of most delayed onset muscle soreness cases.
Considerations
The "Journal of the International Society of Sports Nutrition" notes that whey protein is best taken when combined with fast-digesting carbohydrates. Carbohydrates help shuttle the protein into your hungry muscles. Also, people with lactose intolerance may not be able to tolerate whey protein. As with all dietary supplements, do not take whey protein before getting the OK from your doctor.