A diet rich in whole grains, fruits, vegetables and lean protein and low in sugar and sodium may help prevent health problems like obesity, diabetes, heart disease, hypertension and cancer, say the Dietary Guidelines for Americans. Foods that fit this criteria form the basis of the Rice diet. Originally an in-house program located at Duke University in North Carolina, you can follow the Rice diet at home by following the guidelines in "The Rice Diet Solution." The plan may not be a good fit for everyone. Talk to your doctor before beginning.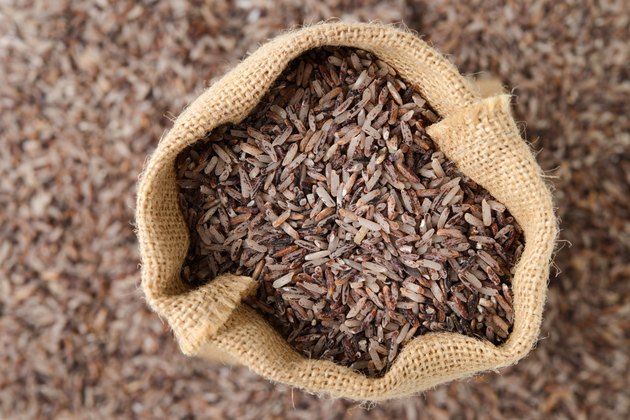 Basic Menu Guidelines
The Rice diet is divided into three phases. All focus heavily on starches, nonfat dairy products, fruits and vegetables. Your daily menus won't contain anything other than these components in phase one, which lasts one week. In phases two and three, you'll be allowed one day a week of fish, eggs or lean meat along with the diet's basic foods. Phase two lasts as long as it takes for you to reach your weight-loss goal. Phase three, also called maintenance, is intended to be your dietary plan for the rest of your life. In all phases, you're required to prepare and consume your meals with no added salt or fat.
Menus for Phase 1
During your week in phase one of the Rice diet, you'll eat only grains and fruit on one day, then vegetables, whole grains and nonfat dairy for the other six days. On day one, your menu could start with a breakfast of 1 cup of oatmeal cooked with 2 tablespoons of raisins paired with an apple. Lunch could be 1/3 cup each of cooked rice and beans along with a banana, while dinner might consist of two whole-grain rolls, an apple and three prunes. Day two could feature 1/3 cup of cooked quinoa, 1 cup of soy or nonfat milk and 1 cup of chopped melon or strawberries for one of your meals.
Menus for Phase 2
Phase 2 of the Rice diet divides your weekly eating into three parts: one day on the basic diet, five days on a lacto-vegetarian version of the plan and one day on the regular diet that includes the optional addition of fish. Your basic diet's menu is the same as phase 1 -- two servings of grains and two servings of fruit. The next five days of the diet might feature a meal of cereal with milk, toast spread with sugar-free fruit preserves and fresh fruit. On the one day you're allowed meat, dinner could consist of fish like flounder, corn, potatoes, bok choy, a salad with oil and vinegar dressing, and fresh fruit.
Menus for Phase 3
The phase 3 guidelines resemble those of phase 2 -- one day on the basic grains and fruits diet, four on the lacto-vegetarian diet and two that allow proteins like lean meat, poultry or seafood for one meal a day. Dinner during phase 3 of the Rice diet might include brown rice, an apple and a cup of grapes or 2/3 cup of cooked rice, one whole-grain roll, 1/2 cup tomato sauce, 2 cups of cooked vegetables, 3 ounces of salmon and 1 cup of fresh berries like blueberries for dessert, depending on what part of the diet you're on.