Alfredo sauce is a classic white cheese sauce that often accompanies pastas, such as fettuccine and linguine. It also makes a delicious topping for steamed vegetables and chicken. You can buy Alfredo sauce in jars at the local grocery store or make your own. Although it might seem complicated, Alfredo sauce only consists of three basic ingredients: heavy cream, butter and Parmesan cheese. Alfredo sauce might turn out grainy if you use improper ingredients or techniques. The grainy texture can be unappetizing and you can avoid it by making the sauce correctly.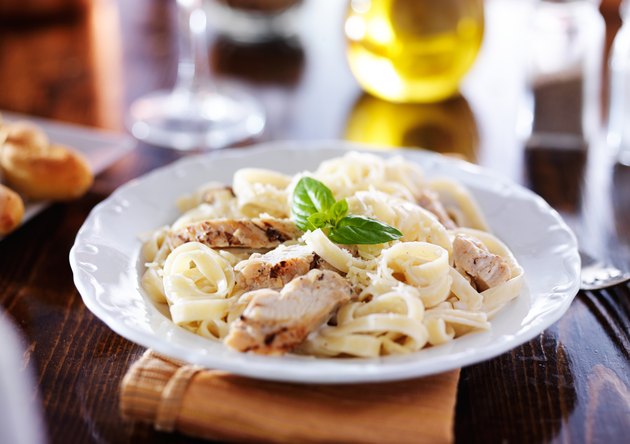 Step 1
Pour 1 pt. of heavy cream into a pan and heat over medium-low heat. Whisk one stick of butter into the cream until it melts.
Step 2
Shred one cup of Parmesan or Parmigiano-Reggiano cheese using a box grater. Shred the cheese on the large grater. The smaller grater shreds cheese to a sand-like consistency. Always use real Parmesan cheese and grate it yourself. Canned Parmesan will result in a grainy texture in your sauce.
Step 3
Bring the Parmesan to room temperature by letting it sit on the counter for 15 to 20 minutes once it is shredded. Cheese that is at room temperature will melt and blend evenly, helping you attain a creamy and smooth texture to your sauce.
Step 4
Whisk the Parmesan into the hot cream and butter mixture. Stir until it is melted and combined.
Step 5
Remove the Alfredo sauce from the heat once the cheese has nearly melted. The cheese will continue to melt once you remove the sauce from the heat. It is important to avoid overcooking the sauce, which could result in the cheese curdling and a grainy texture developing.
Things You'll Need
Heavy cream, 1 pt.

Butter, 1 stick

Parmesan cheese, 1 cup

Box grater

Salt and pepper

Sauce pan