When you're sick with a sore throat, the simple act of swallowing can be excruciating. Whether you're suffering from strep throat or the common cold, you can soothe your throat and make healing time more bearable by drinking lots of liquids, like hot soup. Talk to your doctor before making any changes in your diet or attempting to treat your sore throat yourself.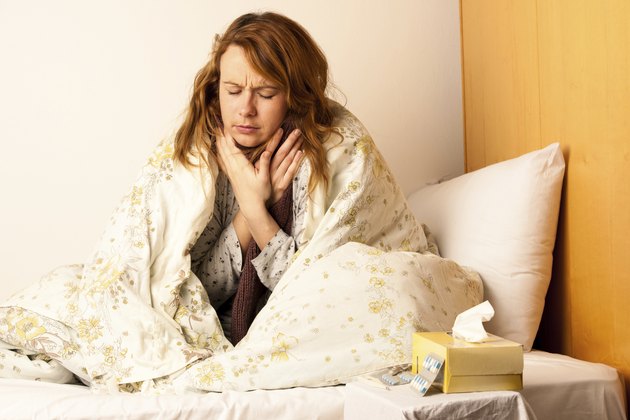 Significance
A sore throat may have a variety of causes, including a bacteria like strep throat, straining the vocal cords by yelling or talking, or a virus, like a cold or the flu. No matter what has caused your sore throat, you can soothe the pain, thin out congestion in the back of the throat, prevent dehydration and moisten the vocal cords by drinking soup. Whether you cook soup from scratch or eat it from a can, the hot broth may help you feel better while you recover.
Types
Although some soups may be beneficial for a sore throat, not all soups are created equally. Soups that are made from chicken, beef or vegetable broth may be the easiest on the throat. Tomato-based soups are acidic and may irritate your throat too much. Cream-based soups contain dairy, which will increase mucous production and make the back of your throat feel thick, which may make you cough and irritate the throat even more. Additionally, spicy soups may irritate your throat, not soothe it. Soups that contain garlic may help speed up the healing process -- garlic is a natural antibiotic that has anti inflammatory properties.
Directions
If you're feeling sick but don't have any soup on hand, make your own quick, homemade soup with items from your pantry. Mince a clove of garlic, then add it to a saucepan full of low-sodium chicken broth. Add cooked penne pasta, sliced carrots and diced celery, then cook until the veggies are soft. Eat the meal with a piece of toast and a big glass of water.
Considerations
Milk, alcoholic beverages, orange juice and tomato juice may irritate the throat. Most other beverages will moisten the vocal folds and prevent dehydration. If hot soup irritates your throat, switch to a lukewarm or cold liquid, like plain water or diluted fruit juice. In rare cases, a sore throat may be the sign of a serious medical condition. If symptoms persist for more than a few days, see your doctor.