Did you know you can cook prime rib with the oven off? Most cooks take advantage of carryover cooking, which simply means removing meat from its original heat source before it reaches the desired internal temperature to let residual heat finish the job.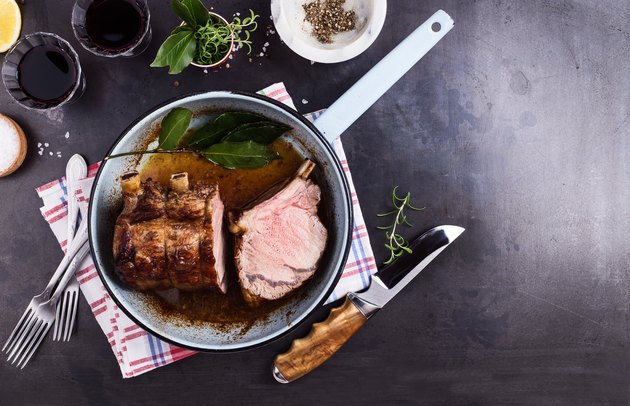 You can apply carryover cooking on a larger scale and cook large cuts of meat, such as boneless prime rib, to medium-rare by using a technique known as "residual-heat roasting."
During residual-heat roasting, hot air retained in the oven after an initial sear at 500 degrees Fahrenheit cooks the prime rib to 135 degrees Fahrenheit, or medium-rare. Residual-heat roasting requires less active cooking time than high-temperature roasting, and it cooks the prime rib more evenly, too.
Step 1: Season the Meat
Dry the rib with paper towels 24 hours before you want to cook it. Liberally season the prime rib on all sides — the fat cap, front, back, sides and bottom — with kosher salt and massage it in thoroughly.
If you're watching your salt intake, substitute your salty prime rib roast rub with a lower-sodium seasoning. The American Heart Association recommends a daily intake of sodium no more than 2,300 milligrams.
Step 2: Refrigerate for 24 Hours
Set the prime rib in a shallow dish or on a tray. Store the prime in the refrigerator for 24 hours, uncovered.
Step 3: Bring to Room Temperature
Take the prime rib out of the refrigerator two to four hours before you want to cook it. Let it sit out until it reaches room temperature, about two to three hours for a 2- to 4-pound roast and three to four hours for a 4- to 8-pound roast.
Step 4: Heat the Oven
Heat the oven to 500 degrees Fahrenheit. If you have a convection oven, operate it with the convection fan off.
Step 5: Place in Oven
Set the prime rib on a roasting rack set in a deep roasting pan. Place the prime rib on the middle rack when the oven reaches 500 degrees Fahrenheit.
Step 6: Roast With Oven On
Roast the prime rib for five minutes per pound. For example, if you have a 6-pound boneless prime rib, you need to roast it for 30 minutes at 500 degrees Fahrenheit. Set the oven timer to alert you when to kill the heat.
Step 7: Turn Off the Oven
Turn off the oven. Let the prime rib cook continue to cook using residual heat for two hours. Set the timer to alert you when to remove the prime rib.
Step 8: Serve and Enjoy