Cable weight exercises let you perform resistance exercises that strengthen and develop target muscles in a variety of ways. The equipment is especially suited for developing muscle groups in the upper body, including the pectorals and the latissimus dorsi. The pulldown form is effective for developing the lats, but you have a couple of variations to choose from. The standing pulldown and the straight-arm pulldown feature different methods of execution that engage your muscles in different ways.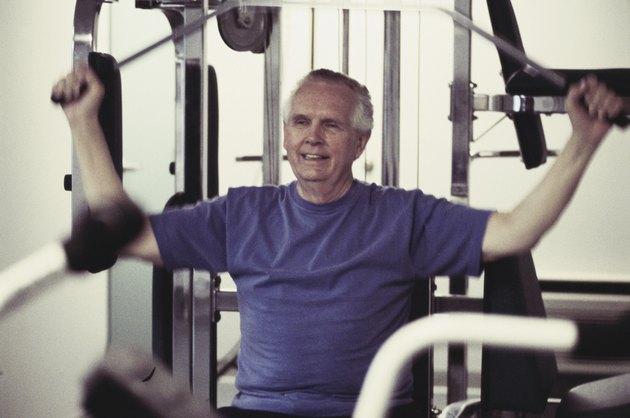 Equipment
Both versions of the pulldown use the stacked weight cable machine, with a two-hand pulldown bar. The equipment features variable weight, allowing you to quickly increase or decrease the resistance of the exercise. Through a cable and a series of pulleys, pulling down the bar raises the weight stack. This type of machine offers several advantages, including the ability to safely control the weight without a spotter, the ability to easily alter the form of pulldowns without having to adjust the configuration of the machine, and the ability to use the machine for other exercises in your training regimen.
Straight-Arm
The straight-arm version of the pulldown is an isolation exercise that primarily engages the lats, as well as a broad network of secondary assistors such as the triceps, the pectorals, the deltoids and others. The motion requires the rotation of the shoulders from over the head down to the waist. Stand with your feet together, at a distance that is more than arm's length from the weight stack so that you can lean forward and have enough clearance to move the bar through its full range of motion while keeping your arms straight.
Standing
The standing version of the pulldown is a compound exercise that requires motion in both the shoulders and elbows. The standing version focuses more resistance from the weight on your lats. The exercise also incorporates the triceps, biceps, deltoids and trapezius muscles for support. To complete the motion, stand with your feet together and your back straight. Use a wide grip on the bar, and methodically pull it down in front of you to chest level, bending at the elbows and rotating your shoulders. Hold it there for a second or two, then slowly control the bar as it returns to starting position.
Comparison
Both exercises engage most of the same muscle groups but use different forms to do so. The standing pulldown allows you to keep your back straight and focus the exercise on your lats; the straight-arm version requires increased rotation of the shoulders while positioning your torso at an angle to the ground. This position may cause strain or injury for those with shoulder or lower-back issues. However, the straight-arm version incorporates the sternal pectorals while the standing version does not.