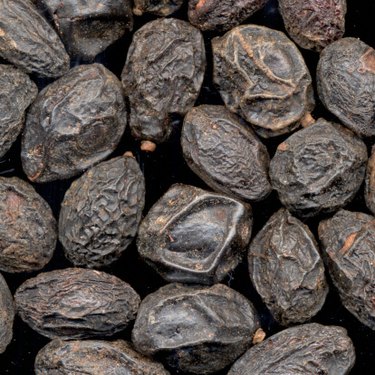 Saw palmetto, or Serenoa repens, is a palm-like shrub or small tree native to the southeastern United States. The plant bears white flowers and berries that emerge yellow but ripen to blue-black. Native Americans valued the berries for their nutritional and medicinal benefits, and American settlers used saw palmetto to treat urinary and prostate problems, notes Drugs.com. Modern research has discovered that saw palmetto may have several health benefits for men. Saw palmetto interacts with some prescription medications, so consult your physician before taking saw palmetto supplements.
Benign Prostatic Hyperplasia
Saw palmetto may help treat benign prostatic hyperplasia, or BPH, which is commonly known as an enlarged prostate. According to Medline Plus, saw palmetto supplements alleviate several BPH symptoms, including difficulty urinating and urinating too frequently. Medline Plus says saw palmetto may even be as effective as some prescription prostate medications. Researchers disagree on how saw palmetto affects the prostate gland. Some believe the herb's chemicals influence testosterone levels and reduce the enzyme that encourages prostate cell growth, notes the University of Maryland Medical Center, or UMMC. Other scientists think it shrinks the actual size of the prostate. More in-depth clinical studies are needed to determine the exact effects of saw palmetto on BPH.
Prostate Health
Taking saw palmetto supplements may reduce your risk of getting prostate cancer. According to the UMMC, animal studies indicate the herb inhibits tumor cell growth, but human studies are still needed. The Mayo Clinic reports that consuming saw palmetto might benefit men undergoing prostate surgery by speeding recovery and reducing the risk of bleeding. While saw palmetto seems to improve the overall health of the prostate, the Mayo Clinic notes the supplement has no significant long-term effects on chronic pelvic pain syndrome or prostatitis, which is inflammation of the prostate.
Urinary Tract Health
Saw palmetto may improve the health of your urinary tract. Because the prostate surrounds the urethra, the tube that transports the urine from your bladder to your penis, an enlarged prostate can cause bladder and urination issues. According to G.S. Gerber's article in the "Urology" medical journal, saw palmetto significantly improved the symptoms of male subjects with lower urinary tract problems. Talk to your doctor before using saw palmetto supplements to treat urinary tract conditions.
Other Health Benefits
The UMMC reports that saw palmetto berries contain sugars called polysaccharides, which might contain anti-inflammatory properties. Medline Plus notes that some males claim taking saw palmetto causes increased hair growth. The Mayo Clinic reports that saw palmetto might help men with male-pattern hair by blocking some of testosterone's effects. According to Medline Plus, saw palmetto might help men with other health conditions, such as coughs, colds, sore throats, migraines and bronchitis.
Considerations
Saw palmetto supplements come in capsule, dried berry, tincture and tablet forms. The UMMC suggests buying supplements that contain between 85 and 95 percent sterols and fatty acids for the most health benefits. Medline Plus notes that while most men can take saw palmetto without problems, side effects may include dizziness, nausea, headaches, diarrhea and constipation. Saw palmetto supplements sometimes interact with prescription BPH drugs and blood thinners, so talk to your doctor before using saw palmetto if you take these medications.