Though people spend hours doing crunches, planks and curls to strengthen their abs, walking can also contribute to a taut tummy. Proper posture calls for your abdominals to be engaged while your core initiates the movement of your legs. Slouching throws the alignment of your entire body off and contributes to a pouch-like stomach. Fix your posture and you will be able to tighten your abdomen while you are walking.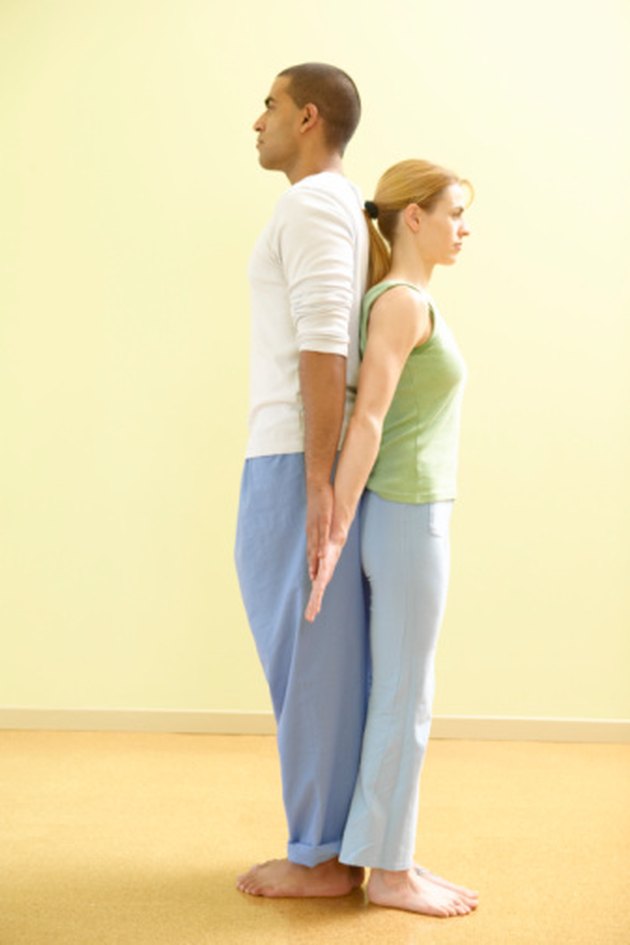 Step 1
Stand with your feet parallel to each other and balance your weight evenly on both feet. You should feel all four corners of each foot on the ground. It is common to place your weight on the outer or inner two corners of the foot; however, doing so can throw your alignment and posture off.
Step 2
Position your shoulders over your hips so that they are not rolling forward or pulled too far back, both of which will throw your alignment off and weaken your pelvis and abdominal muscles. Lifting your chest can help move your shoulders into the proper position.
Step 3
Roll your seat under so that it is not sticking out behind you; when your seat is pulled too far back, it forces your torso to move forward improperly, which also weakens your abdominal muscles.
Step 4
Engage your abdominal muscles slightly. There is no need to feel like you are doing an abs workout, but keeping your stomach slightly engaged will keep it in proper alignment and strengthen the muscles in your abs and lower back. As your abdominal muscles become stronger, engaging them will seem more normal and less like an effort.
Step 5
Maintain this posture as you walk. Walking with proper posture will strengthen your abs, since your core is working when your legs are in motion. Plan a 20- to 60-minute walk per day to burn calories, strengthen your abdomen and release stress.