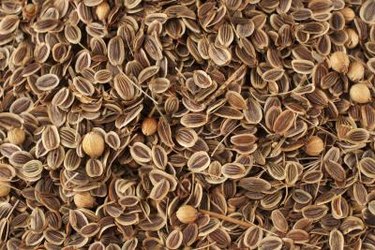 Fenugreek and fennel seed are both spices that people use on a daily basis in a variety of culinary dishes and pickling. However, both these spices also have medicinal properties for everything from colic in infants to cholesterol management and diabetes. According to a survey conducted by the National Institutes of Health and published in the "National Health Statistics Report" in 2007, as many as four out of 10 Americans report using alternative and complementary medicine, and the use of herbs such as fennel seed and fenugreek to maintain health. With this approach to health care, it is important to learn about the different herbs and to discuss their use with your physician.
Fenugreek
Fenugreek, or Trigonells foenum-graecum, according to the National Center for Complementary and Alternative Medicine, is a seed that is useful for a variety of medical conditions, including menopausal symptoms, digestive problems, inducing childbirth, diabetes, skin inflammation and to stimulate milk production in women who are breastfeeding. Due to the fact it has a history of inducing childbirth, women should use caution when taking it while pregnant. As with all supplements, you should consult with your physician before making any changes or additions to your diet.
Medical Research and Fenugreek
Recent studies on fenugreek show there are a variety of medicinal uses for the herb. A 2010 study published in "Current Pharmaceutical Design" looked at the effects of a variety of herbs and their effects on the treatment of hyperlipidemia, or elevated lipids in the blood. The study revealed that treatment with fenugreek showed a significant decrease in both total cholesterol and LDL cholesterol. In a 2010 study published in the "Journal of Pharmacy and Pharmaceutical Studies," treatment with fenugreek was recommended for breastfeeding mothers in order to increase breast milk production.
Fennel Seed
Fennel seed, or Foeniculum vilgare, is a popular herb, used in a variety of dishes. According to the Herb Society of America, fennel seed is a member of the Apiaceae family and is related to cumin, dill and anise. It is native to Europe but grows all over the world. Most fennel seed bought commercially in the United States comes from Egypt. Historically, fennel was used as a medicine by ancient Egyptians and in ancient China as a remedy for snake bites. Fennel seed is used in a large variety of Italian dishes, including Italian sausage.
Medical Research and Fennel Seed
Numerous studies have looked at the medicinal properties found in fennel seeds. A 2009 study published in "BMC Complementary and Alternative Medicine" showed that fennel seed extract showed antibacterial properties against a wide variety of bacteria and was comparable to some standard antibiotics. A 2003 study published in "Alternative Therapies in Health and Medicine" looked at the use of fennel seed oil as a treatment for infantile colic. The results showed that fennel seed treatment was able to reduce or eliminate colic in 65 percent of the infants, compared to only 23.7 percent of the infants receiving a placebo.