While fresh salmon is a good source of protein and is rich in healthy omega-3 fatty acids, spoiled salmon can make you sick if you eat it. Before serving your salmon, check to see if it is still edible by examining it thoroughly. Although the shelf life of cooked, canned or smoked salmon is longer than raw salmon, all types of salmon eventually expire.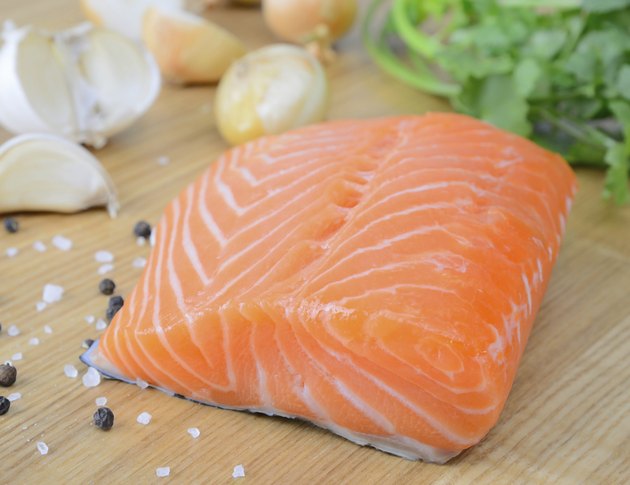 Something Smells Fishy
Although it may seem counter intuitive because salmon is a type of fish, if it's still edible, it should not smell unpleasantly "fishy" in any way. If your salmon smells somewhat sour or anything like ammonia, it has gone bad and you need to toss it. Fresh salmon has a mild aroma, or one that smells similar to the sea. Cooked or canned salmon also smells somewhat neutral or mild, while smoked salmon has a pleasant, smoky aroma. Even if the fish looks good, if that salmon smells off, unusual or downright disgusting, it has expired and is no longer edible.
Give Your Salmon the Once Over
Inspect your salmon for any signs of visual spoilage such as mold or slimy residue on the outside of it. Your salmon should appear pinkish in color and should not be discolored or dry, warns the U.S. Food and Drug Administration. Milky-white or sticky residue on the outside of raw salmon, especially around the gills, is a sign of spoilage, as is a cloudy appearance to the eyes of a whole salmon. The flesh of the salmon should feel solid and spring back after you press into it with your fingers. If your hands leave a dimple or depression in the flesh, your salmon is spoiled.
Storage Can Help
After purchasing fresh salmon, you need to get it into the refrigerator within two hours to prevent the growth of bacteria, which will quickly spoil it. Raw salmon lasts for up to two days when stored in the refrigerator at just under 40 degrees Fahrenheit, according to the EatByDate website. Cooked, canned or smoked, once opened, lasts for around six days in the fridge. When wrapped in plastic and aluminum foil, salmon frozen at 0 degrees can last up to nine months, as can unopened canned salmon. Salmon that is kept between 40 and 140 degrees will quickly develop bacteria within hours and will spoil, even if frozen or refrigerated after the fact.
Spoilage May Result in Illness
While the expiration date on your packaged, canned or smoked salmon is a good guide to follow, rely on your senses to determine whether it's still edible, especially if your salmon wasn't properly stored before you open it. Spoiled salmon can develop mold and bacteria which can make you sick. Scombroid poisoning, also referred to as histamine poisoning, can occur in fresh salmon that isn't frozen or refrigerated properly after it's caught, leading to a buildup of bacteria and toxins in the fish. Cooking won't help to kill the toxin and it can make you ill if you eat salmon spoiled with bacteria. Even if your salmon is edible, cook it to 145 degrees to kill most harmful microorganisms.