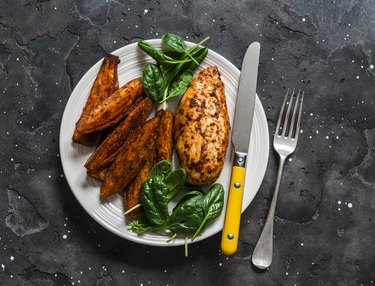 Finding an enticing Big Green Egg chicken breast recipe can broaden your grilling horizons. By basting the chicken with healthy olive oil and adding a few tangy spices and garnishes, you'll create a tasty, nutritious dish that will be the highlight of your family dinner or neighborhood cookout.
Discovering Chicken's Nutritional Value
Chicken offers varied nutritional benefits. It is relatively high in protein compared to other meat sources and includes all essential amino acids, says Texas A&M AgriLife Extension. Chicken meat also contains low levels of cholesterol and total fat and its lower calorie count makes it a desirable component of many weight loss programs.
Best of all, chicken is naturally suited to outdoor grills. Whether you prefer grilled chicken and vegetable skewers or marinated grilled chicken breast seasoned with your favorite herbs, you'll find a feast of recipes from which to choose.
If you're searching for a healthy alternative to grilled burgers, slide a grilled chicken breast between your bun, recommends the Cleveland Clinic. As a generally leaner white meat, chicken doesn't have an increased level of carnitine, an amino acid sometimes connected to stroke and heart attack occurrences.
Tips on Safely Grilling Chicken
Before you enjoy that tasty grilled chicken, ensure it's cooked to the proper internal temperature, advises Michigan State University Extension. This advice applies whether you're grilling an entire bird, chicken breasts or chicken burgers on any type of grill.
Use a food thermometer to confirm that the meat has reached an internal temperature of 165 degrees Fahrenheit. To do that, hold the thermometer in the chicken for at least 15 seconds. Before removing the chicken from the grill, cut off charred portions that resulted from excessive heat or flame-ups, states the Mayo Clinic.
After the chicken has finished cooking, allow it to rest for three minutes, recommends the USDA. During this period, the meat's temperature stays constant or keeps rising, destroying dangerous foodborne bacteria.
Cooking Lemon Pepper Chicken
Cooking an entire chicken requires some extra preparation and cooking time. To make Highway Chicken, also known as lemon pepper chicken, on the Big Green Egg, you must first flatten the chicken so the entire bird cooks evenly in about 30 minutes, advises Big Green Egg. It then requires a marinade made of pepper, garlic, sage and grated lemon zest, and should be left to marinate for four hours.
Getting the grilling process right is the key to a thoroughly cooked chicken with a golden, crispy skin. The cooking temperature will range from 165 to 175 F. Compressing the chicken with two aluminum foil-wrapped bricks will help to ensure even heat distribution.
After grilling one side of the pressed chicken for 15 to 20 minutes, repeat the process for about 10 to 15 minutes on the opposite side. Finally, blend butter and finely chopped sage leaves in a pan. Lightly pour the mixture over the chicken before serving.
Making Plank-Grilled Chicken Breasts
You can also try plank-grilled chicken breasts topped with fruit salsa, suggests Big Green Egg. This easy (and tasty) entrée combines just a few healthy ingredients and takes about a half-hour of preparation time. By adding our Cauliflower Mashed Potatoes and Mexican Avocado Salad, you'll have a tasty, satisfying meal that's packed with good nutrition.
4 (6-ounce) skinless, boneless chicken breasts
1 cup freshly chopped mango
1 cup freshly chopped peaches
1/2 cup chopped red bell pepper
1/4 cup thinly sliced red onion
Juice from one lime plus lime wedges, to serve
2 teaspoons olive oil
Sea salt
1/4 cup of torn fresh basil leaves

Soak a clean alder plank for an hour.
Blend the mango, peaches, pepper, onion and squeezed lime juice in a small bowl.
Place the Big Green Egg into direct cooking mode. Set the cooking temperature for 325 F.
Thoroughly rub the chicken with olive oil and sprinkle with sea salt.
Position the soaked plank on the grid and lower the cooking dome. Heat for one minute. Flip the plank over and set each chicken breast on the pre-heated side. Grill for about 20 minutes or until the chicken displays an internal temperature of 165 F.
Take the planked chicken breasts off the grill. Squeeze lime juice over the chicken. Blend the torn basil into the fruit salsa and spoon over the chicken prior to serving.