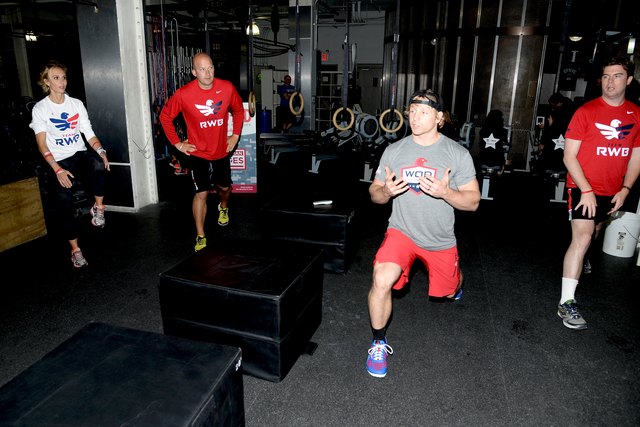 A high butt, also known as a tight or firm rear end, can be achieved through exercise and possibly diet. While even thin people can have saggy butts, if you are carrying a few extra pounds, you'll first need to eliminate excess fat that covers the muscles in your tush. Then you need to exercise to tone it up. Luckily, the muscles in your rear are easily isolated for exercises and worked often in day-to-day activities. This means that with proper motivation, and some hard work, you can definitely raise your butt so that it sits higher.
Step 1
Add aerobic exercise that focuses on your butt to your weekly workout schedule. Get out there and run hills or climb stairs to tone your rear and burn calories, if needed. If you prefer to workout in a gym, set the elliptical machine or treadmill to uphill settings. Do this three to five times per week for 30 to 60 minutes per session. It is not possible to target specific areas of your body for weight loss but doing this will help burn fat all over your body while strengthening the muscles in your glutes and your lower body.
Step 2
Cut 250 to 500 calories per day, if you are overweight, through a combination of reduced intake and calorie-burning activity. This is the number of calories necessary to lose 1/2 pound to 1 pound per week. Losing weight all over your body will help trim away excess fat that can make your butt look saggy and low. Eat mainly lean proteins, whole grains, fruits and veggies, low-fat dairy and healthy fats.
Step 3
Perform static lunges to tighten and raise your tush. Stand with your legs in a scissor formation with your right foot facing forward in front of you and your left foot facing forward behind your body. Bend your knees and lower your body towards the floor. Place your hands either on your hips, extended towards the ceiling or reaching out in front of you. Push your legs so that you feel the stretch through the front heel and then return slowly back to the starting position. Do one to three sets of eight to 16 repetitions at least three times per week.
Step 4
Raise your butt by adding pliés to your routine at least three times per week. Stand straight with your feet slightly wider than your hips. Point your toes slightly out to the sides. Place your hands on your hips or thighs during the exercise. Straighten your back and lower your butt down towards the floor, stopping before it reaches the level of your knees, while keeping your back straight. Exhale and return to the starting position. Do one to three sets of eight to 16 repetitions.
Step 5
Work squats into your routine. Start by standing with your feet shoulder-width apart. Your hips and knees should be in line with each other, and your toes pointed forward. Hold your abdominal muscles in tightly and slowly bend your knees, lowering your body as though you are sitting down in a chair. Keep going until your thighs are parallel to the ground. Exhale and return to the starting position. Do one to three sets of eight to 16 repetitions at least three times per week.
Tip
Walk up the stairs at work or when shopping, do lunges while brushing your teeth and take the time to do a few squats while you are cooking dinner in the evening.
Warning
Speak with a physician before beginning a new diet and exercise regimen. Be careful when doing squats and lunges; your knees should not overshoot your toes while bending. Do exercises slowly at first until you fully understand how to do them. This can help you avoid injury.