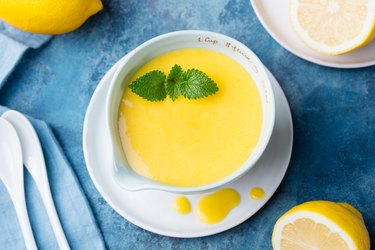 One of the most frustrating kitchen blunders is getting halfway through a recipe only to realize that you're missing one of the main ingredients on the list. Luckily, you can make substitutions for many different ingredients and custard powder is no exception. When it comes to replacing custard, you have a few options.
Tip
If you find yourself without the pre-made powder, you can use a combination of basic kitchen staples like cornstarch, vanilla extract and salt in its place. You can also use instant vanilla pudding mix.
What is Custard Powder?
Because he didn't want her to miss out on traditional custard — whose main ingredient is eggs — Bird set out to create an egg-free way to replicate custard's taste and consistency. He came up with custard powder, which is <ahref="https: www.cooksinfo.com="" custard-powder#substitutes"="">a </ahref="https:>blend of:
Cornstarch

Salt

Coloring (annatto)

Vanilla flavoring

A September 2015 issue of Food Science and Nutrition notes that some custard powders may also contain egg solids and added vitamins and minerals, although these ingredients weren't part of the original recipe. According to the USDA, one tablespoon of custard powder contains:
43 calories

1.2 grams of protein

1.2 grams of fat

5.7 grams of carbohydrates

3.2 grams of sugar

1,260 milligrams of sodium

To this day, Bird's custard powder is still one of the most popular commercial options out there. To make custard with custard powder, all you have to do is add one-half cup of custard powder and 1 tablespoon of sugar to a saucepan with 2 cups of milk and whisk over low heat until it thickens.
One of the added benefits of using custard powder to make custard instead of doing it from scratch is that since it doesn't have any eggs, there's no chance of curdling — a common problem with overheated custard. But while the traditional use for custard powder is to simply make custard out of it, other types of recipes, like cakes or cookies, call for it as an ingredient.
How to Replace Custard Powder
If a recipe lists custard powder and you don't have any, you can make some simple swaps to achieve the same effect. For each tablespoon of custard powder that's called for in your recipe, you can make your own custard mix with 1 tablespoon of cornstarch plus 1 teaspoon of vanilla extract and a pinch of fine salt.
You can also use vanilla pudding mix, if you have some on hand. Simply swap in a one to one ratio. In other words, use 1 tablespoon of vanilla pudding in place of each tablespoon of custard powder.
Homemade Custard Ingredients
Another option is to skip the custard powder altogether and make custard from scratch. While it's definitely more involved than using a pre-made powder, custard ingredients are rather simple and something that you probably already have on hand. To make custard from scratch, you'll need:
3 cups cold milk

4 large eggs
1/2 cup sugar

1 1/2 teaspoons vanilla extract
1/4 teaspoon salt
Start by preheating your oven to 350 degrees Fahrenheit. Add the cold milk to a sauce pan and heat to just under boiling. Remove the pan from heat and allow to cool for five minutes. While the milk is cooling, beat the remaining ingredients together until combined, but not foamy. Once that's combined, slowly whisk the warm milk mixture into the eggs.
Place six 6-ounce custard cups in baking pan and pour hot water into the pan until it comes up to within a half an inch of the top of the custard cups. Divide the custard mixture evenly between the custard cups. Bake for 25 minutes or until a knife inserted in the center comes out clean. Cool for five to 10 minutes before serving.