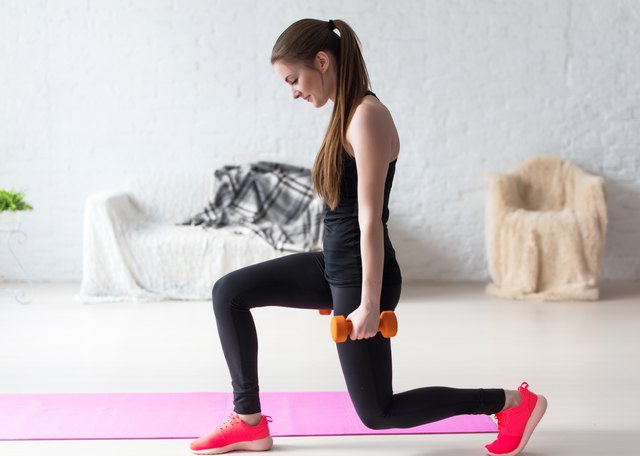 Performing countless squats and lunges in a group fitness class may not be enough stimulation to produce massive gluteal muscles. While you may not want the monster pecs or thighs of a bodybuilder, you must build big glutes to fill out the back of your jeans and shorts. Heavy leg exercises can force your gluteal muscles to grow, changing the shape of your seat. Keep your upper-body exercise light, and pack on the weight with lower-body exercises, to get rid of a square butt.
Walking Lunges
Step 1
Grasp a heavy dumbbell, holding one end in each of your palms. Lift the dumbbell in front of you so it rests against your chest and shoulders. Keep it in place with your hands.
Step 2
Stand with your feet together, then lunge forward with your right leg. Bend your hips and knees to lower your body until your thigh is parallel to the floor; your hips and knees should be at nearly 90 degrees, with your trunk in an upright position.
Step 3
Push through the heel of your right foot as you contract your right gluteal muscles to stand up straight. Immediately lunge forward with your left leg. Push to the heel of your left foot as you contract your left glute muscles to stand up straight.
Step 4
Continue to do walking lunges for four to six sets of six to 12 lunges per leg, using progressively heavier dumbbells.
Hyperextensions
Step 1
Place a 10-pound weight plate on the floor near the hyperextension exercise machine, so you can grab the plate easily.
Step 2
Adjust the hip pads of the hyperextension machine so your hips hang slightly beyond the pads. Lean your hips and thighs against the hip pads, with your heels against the back of the foot rest.
Step 3
Bend down to pick up the weight plate, then hold it against your chest in your criss-crossed arms. Contract your gluteal muscles to lift your trunk until your body is in a straight line; hold the contraction for 3 seconds; then bend back down.
Step 4
Repeat for four to six sets of six to 12 repetitions, gradually increasing the amount of weight you are holding against your chest.
Hip Extensions
Step 1
Secure a thigh strap around the center of each thigh. Lower the pulley of a cable pulley machine to a level at the middle of your shin. Move the weight pin to select a moderately heavy weight.
Step 2
Attach the pulley to your right thigh and face the machine. Step back 6 inches from the machine to lift the weight plates off the rest of the stack. Balance on your left leg, slightly bending your left knee. Bend your right knee to lift your foot off the floor.
Step 3
Contract your right gluteal muscles to extend your hips as far as possible, squeezing your glute muscle for 3 seconds. Flex your right hip to bring your knees together, then repeat for one set of six to 12 repetitions. Switch legs to work your left gluteal muscles.
Step 4
Complete four to six sets, of six to 12 repetitions, on both legs.
Things You'll Need
Dumbbells

Hyperextension machine

Weight plates

Cable pulley

Pulley thigh straps
Tip
Focus on your glute muscles for every rep of glute exercises, making each contraction intense.