You don't have to pay monthly membership fees, sit in traffic to get to the gym and then wait for an open bench to get a bigger chest. You don't even need to leave your house. You don't need a bench, nor any other equipment, for that matter. All you need is your own body weight and a bit of floor space to do this push-up-only routine that will target your entire chest, building strength and size.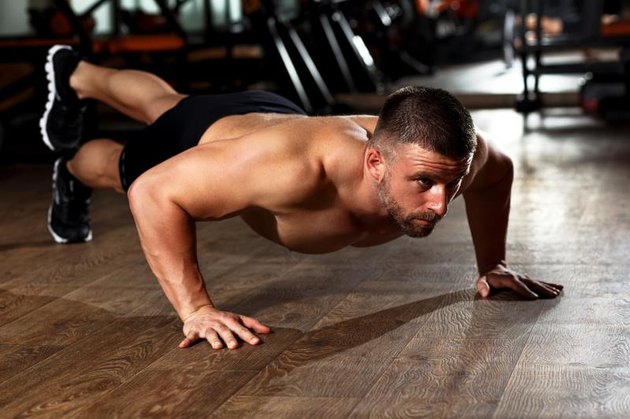 Do one set of each exercise back-to-back with as little rest as possible in between sets. Do three to four rounds, resting for 2 minutes in between rounds. Use this workout as an adjunct to weight lifting, leaving 24 to 48 hours between workouts for recovery, or do it twice a week as a standalone chest-busting routine.
Regular Push-ups
Warm up with straight-forward push-ups and ensure proper form before you move on to more challenging variations. Do 15 repetitions.
In perfect push-up position your shoulders are aligned directly over your wrists, and your body is in one straight line from your shoulders to your heels, meaning your hips don't sag or pike up. As you lower down, keep your elbows close to your sides -- don't let them flare out. Lower your body until your chest almost touches the floor, then press back up, maintaining that solid plank-like position.
One-Legged Push-ups
Doing a push-up with one leg lifted puts almost 100 percent of the load on your arms and chest. Do five to 10 repetitions on each side.
From the top of a push-up position, lift one foot and hover it off the ground. Perform 10 reps as you would a traditional push-up, then switch legs. To make it easier, start with your feet closer together; to make it harder, set your feet wider apart.
Incline Push-ups
Elevating your feet increases the challenge of a regular push-up — the higher the feet, the more challenging it is. However, you don't want to go too high or it becomes more of a shoulder exercise.
Get into traditional push-up position with your feet up on a stair or chair so your body is at a 15 to 40-degree angle with the floor. Perform the exercise just as you would regular push-ups, keeping your body in one solid line. Do 10 repetitions.
Diamond Push-ups
Also called narrow push-ups, this exercises focuses on your lower chest and triceps. Complete 10 reps.
Move your hands closer together on the floor, toward the center of your chest. Bring them close enough so that your thumbs and forefingers meet to form a diamond shape. Maintain proper push-up form as you lower down and press back up.
Explosive Push-Ups
Explosive, or plyometric push-ups, will help you build size but also power. You'll use momentum to "explode" off the floor at the top of the push-up. Try your hardest to reach 10 repetitions.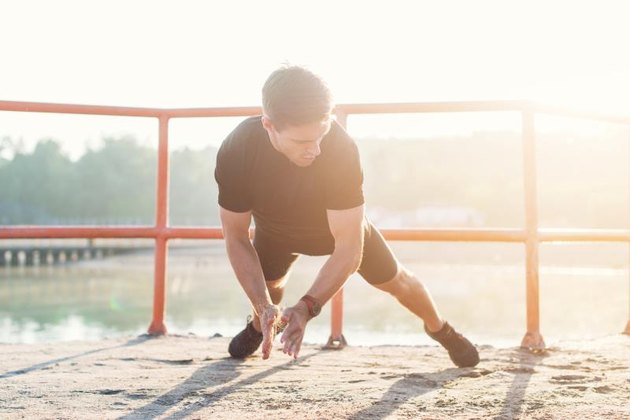 Start in regular push-up position, lower down, then powerfully push-up trying to catch air at the top of the movement. Your toes will stay on the ground, but your aim is to lift your hands off the floor. See if you can actually clap your hands together. Land with bent elbows and go straight into your next rep.