Soy, most notably soy sauce, forms the base of many stir-fry sauce recipes, but some people don't want to eat soy or cannot eat soy for any number of reasons. Fortunately, there are plenty of other ingredients to use to make a tasty stir-fry sauce that doesn't include soy sauce. Play around with different ingredients to find combinations that pair well with the meat and vegetables that you're stir-frying.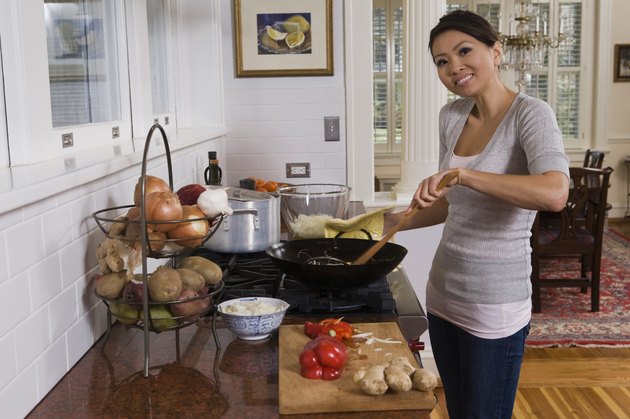 Soy Sauce Substitute
Step 1
Pour equal parts, such as 1 tablespoon or a 1/4 cup, of beef bouillon and balsamic vinegar into a saucepan.
Step 2
Whisk in half as much dark molasses as you used bouillon and vinegar. For example, if you used 3 tablespoons of bouillon and vinegar, you'll use 1 1/2 tablespoons of molasses.
Step 3
Add a shake of ground ginger, white pepper and garlic powder and whisk to combine.
Step 4
Add a cup or two of water and set the mixture over medium-high heat.
Step 5
Boil the soy sauce alternative until the liquid is reduced to about 1 cup.
Step 6
Allow the substitute to cool completely, and use it in place of soy sauce in your favorite stir-fry recipe.
Alternate Ingredients
Step 1
Replace the soy sauce in a recipe with a different type of Asian sauce, such as teriyaki or oyster sauce.
Step 2
Experiment with different sauces to come up with a combination that you enjoy. For example, you might like combining oyster sauce and fish sauce when making stir-fried shrimp, or you might like to use teriyaki sauce and chili ginger sauce when making stir-fried beef and broccoli.
Step 3
Add herbs and spices to the sauces you replace the soy sauce with. Ground ginger, pepper, chili pepper flakes and Chinese 5-spice powder are several options can be added to stir-fry recipes. Experiment with different amounts to create a flavor that pairs well with the ingredients you're stir-frying.
Step 4
Include other flavorful ingredients in your stir-fry sauce. Minced onions, garlic or lemongrass, for example, will infuse the sauce with flavor without adding any soy. Fresh herbs, such as parsley, will also add a depth of flavor that will help replace the soy sauce.
Things You'll Need
Saucepan

Whisk

Beef bouillon

Balsamic vinegar

Dark molasses

Ground ginger

White pepper

Garlic powder
Tips
Look for sauces that are low in sodium. Like soy sauce, many Asian sauces are very high in sodium, and consuming too much sodium isn't good for your heart. Most large supermarkets and health foods stores stock these lower-sodium options.