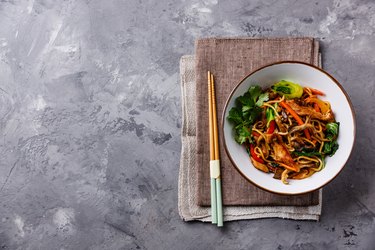 Cooking up a stir fry lets you blend together flavors from veggies, protein and starches, such as noodles. The sauce brings the dish together, and if you're looking for a soy sauce substitute with less salt or a different flavor, there are plenty of options to choose from.
Drawbacks of Soy Sauce
Water
Wheat gluten
Salt
Sugar
Soy beans
Caramel coloring
Sodium benzoate
The soybeans are soaked and steamed before brewing. These legumes add flavor and protein to the sauce, while wheat provides further enhances the flavor. Salt is added to prevent bacteria growth during fermentation and preserve the soy sauce.
With very few ingredients, you might find that soy sauce is too bland to use in your stir fry. Another issue is the amount of sodium. Depending on the brand, a tablespoon of soy sauce contains about 780 milligrams of sodium, according to the USDA.
You should have no more than 2,300 milligrams of sodium per day, states the American Heart Association, with 1,500 milligrams per day being the optimal amount. So, one tablespoon of soy sauce is about half what is recommended. Chances are, if you're making a stir fry, that amount won't add enough flavor to your dish.
Eating too much sodium can lead to heart problems and other health issues. According to a March 2015 review published Circulation Research, limiting sodium intake may lower your blood pressure if you have hypertension. This condition can increase your risk of cardiovascular disease and stroke, warns the Centers for Disease Control and Prevention.
To prevent elevated blood pressure, it's better to limit this mineral in your diet. Since the average American consumes roughly 3,400 milligrams of sodium per day, according to the American Heart Association, you should avoid excess salt from soy sauce.
Make a Soy Sauce Substitute
It is possible to make a stir fry sauce without soy sauce, whether you prefer oyster sauce without soy or buy something pre-packaged. You can prepare a Healthy Chicken Stir Fry recipe from LIVESTRONG.com using only vegetable oil, for example. Add marinated and sliced chicken to a wok and cook with a tablespoon of canola or olive oil until it's no longer pink on the inside.
Next, remove the chicken and add vegetables that take a while to cook, like carrots and peppers. Once they're mostly cooked, add softer vegetables like mushrooms and bok choy. To create a sauce, you can mix together chicken broth with low-sodium soy sauce. Use cornstarch as a thickener and pineapple juice to add flavor.
Hoisin sauce, for instance, blends spicy, sweet and salty flavors together. It is a combination of vinegar, sugar, soy sauce, chile peppers and garlic. It has 460 milligrams of sodium per tablespoon, making it a useful soy sauce substitute.
Another option is to make a vegetable and turkey stir fry recipe from the USDA that has a gravy sauce with an option to add soy. To make the dish, heat a fry pan and add oil. Then, add garlic, ginger and turkey and vegetables. Fry for about one minute.
Turn the heat down and add sugar. If the vegetables start to soften, remove them. If the vegetables are still hard, add one or two tablespoons of water and continue to cook until it evaporates.
When it's done cooking, make the gravy. Use a tablespoon of cornstarch and half a cup of chicken stock. You can add two teaspoons of soy sauce or leave it out. Pour the gravy over your dish and enjoy.