The condition in which your nails split is known as onychoschizia, and this common problem can arise due to a variety of factors. One cause is malnutrition or a deficiency in vitamins or minerals, like iron. Your toenails can also split or become brittle due to trauma or repeated wetting and drying. If your toenails have begun to split, dry out or soften, or if you experience other adverse symptoms, see your doctor.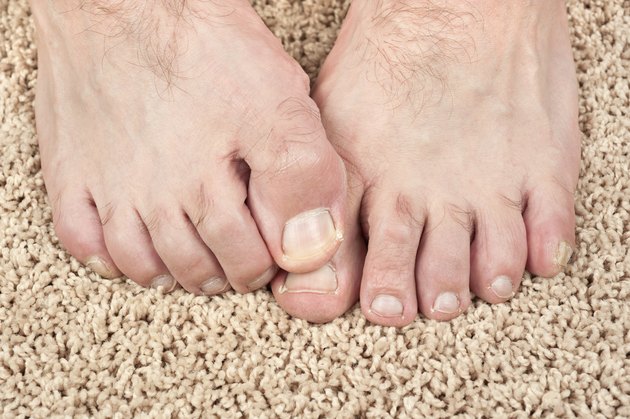 Trauma and Poor Care
Trauma, such as crushing your toenail bed, can result in splitting and permanent deformities. Additionally, if your toenails constantly get wet and then dried out, or if you pick at them or live in an area with low humidity, your nails may become brittle and split. While these external factors most often cause splitting fingernails, splitting toenails may indicate an internal cause, since toenails are typically strong and do not split easily unless they are weakened from inside.
Illness and Malnutrition
If you have experienced a prolonged illness, you can develop Beau's lines, which are depressions across your nails that may result in splitting. A severe illness can cause you to become malnourished or otherwise deficient in certain essential vitamins and minerals, which can lead to brittle or splitting nails. Additionally, malnutrition unrelated to an illness can cause changes in your toenail strength and appearance as well, since it deprives your body of the nutrients necessary for proper nail growth and support.
Iron Deficiency
Of the nutritional deficiencies that result in splitting toenails, an iron deficiency is the most common. Iron deficiency anemia results when you do not get enough iron in your diet, and this can cause a variety of adverse symptoms. You may experience only fatigue, headaches and agitation at first. But as the anemia progresses, you will typically notice your nails becoming brittle and splitting, as well as a pale skin tone, sore tongue and light-headedness. The most common nail disorder associated with an iron deficiency is koilonychia, wherein your nails develop ridges, become thin and curve inward, all of which can also lead to splitting.
Prevention and Additional Considerations
You can help prevent splitting toenails from malnourishment or a nutrient deficiency by eating a nutrient-rich diet that gives you essential vitamins and minerals, such as iron. You might also find that taking biotin supplements can strengthen your nails and reduce splitting, according to the American Osteopathic College of Dermatology. Always check with your doctor before you begin taking any new supplements. Additionally, let him know if your toenails have begun to split or if you suspect you have iron deficiency anemia or another nutritional deficiency, as these can become serious if left untreated.