Fingernails can indicate health problems by their appearance. Nail abnormalities often involve shape, texture, color and thickness of the nails. Depression lines in fingernails, also known as beau lines, occur due to malnutrition or an injury to your nail. Other possible conditions include koilonychia, leukonychia, fingernail pitting and ridges. According to Medline Plus, a website provided by the National Institutes of Health, liver diseases, kidney diseases and vitamin deficiencies can cause nail abnormalities including fingernail ridges. Contact a doctor if your nails appear blue, clubbed or horizontally ridged or if you see white color under your nails.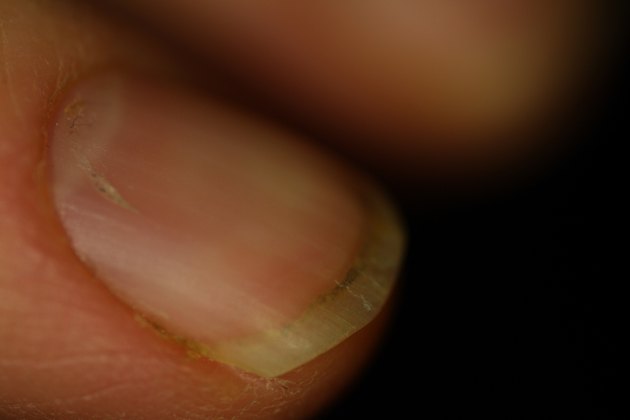 Vertical Fingernail Ridges
Fingernail ridges are not always a health concern. There is a distinction between vertical and horizontal fingernail ridges. Vertical ridges are normal and are not a sign of any medical health concern. They extend from the base of your fingernail to the tip in an aligned and orderly positioning. They appear more prominently with age.
Horizontal Fingernail Ridges
Horizontal fingernail ridges are usually but not always, a sign of a medical condition. Horizontal ridges run across the nail from one side to another. Ridges that include white lines may be a sign of arsenic poisoning. Horizontal dents, on the other hand are a sign of beau lines. Beau lines occur due to malnutrition, uncontrolled diabetes or circulatory diseases.
Vitamin Deficiencies
B vitamins are a group of vitamins with key functions including cell growth. Vitamin B-12 of the B vitamin complex strengthens nail growth; therefore, a deficiency in B vitamins may cause fingernail ridges. Iron deficiency causes ridges in the fingernails usually accompanied with white spots; Koilonychia is a condition associated with iron deficiency. Other vitamins and minerals that cause other nail abnormalities are vitamin C, zinc and calcium. Poor absorption of vitamins or an unhealthy diet will lead to vitamin deficiencies. Consult a doctor if horizontal ridges persist or you notice discoloration such as yellowness or green nails.
Prevention
A balanced diet rich in vitamins, minerals and protein will help prevent fingernail ridges. Eat wholegrain foods, green vegetables and fruits regularly to achieve the recommended intake levels for vitamins. Consider supplements if your diet is lacking certain vitamins and nutrients. To avoid nail abnormalities do not pick or bite nails. Clip hangnails, keep nails short and avoid nail polish.