You've been told time and time again that losing weight quickly means you are just losing water weight, and you may have noticed yourself looking decidedly puffy at times. For the desperate dieter, it's a short leap to the thought that you don't care what kind of weight you lose, as long as it comes off quickly. The truth is that you should care. Lost water weight comes back just as easily as it went away, and losing it won't magically give you the body of your dreams.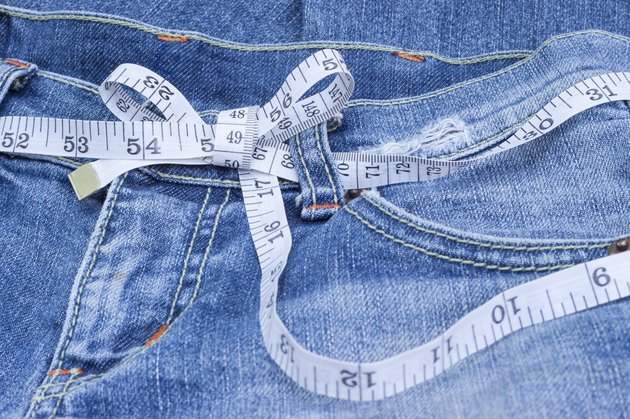 Water Weight
Water weight is simply the mass of water your body is holding onto at a given point in time. It fluctuates with hormonal changes, the weather and the food you eat, but it generally makes up about 60 percent of your total weight. It keeps your skin smooth, your organs clean, your cells nourished and your breathing passages moist, and a lack of it can lead to negative effects on all these functions quickly. Sometimes your body may hold on to too much water. That's not harmful, but it can contribute to puffiness and bloating, which are discouraging to anyone trying to lose weight.
Diuretics
Excess water retention usually goes away on its own within a few days, but some dieters become so desperate to see the number on the scale drop a couple of pounds that they attempt to flush the fluid from their bodies. Diuretic pills and teas are common, but they should never be used without a doctor's permission. You put yourself at risk for dehydration, electrolyte imbalance and other dangerous conditions when you try to get rid of water artificially. Many diuretics interact negatively with medications and other supplements, so it is especially important not to use them unsupervised if you are taking anything else at all.
Diet Changes
There are natural, healthy ways to lose excess water, and they are such good dietary moves that they should become a permanent part of your life. Contrary to common sense, increasing your water intake is the most effective way to flush excess water. When your body realizes that there's a constant water supply available, it won't hold on to such large reserves. Eating more fresh fruits and vegetables helps in much the same way, because these foods have a high water content that is as hydrating as drinking water. Reduce the amount of salt you eat; a good first step is to stop adding salt to your food. A balanced diet provides all the sodium your body needs naturally, but not enough to trigger water weight gain.
Drink More to Lose More
If you are 50 pounds overweight, losing your excess water won't get you into model shape. But it may help your rings fit better and your pants may be a little less snug. It may just provide the incentive you need to embark on a real weight loss plan. Cultivating healthy hydration habits may assist you. A 2008 study in the journal "Obesity" found that increasing water intake leads to increased weight loss and increased fat loss, whether you are dieting and exercising or not.