Green tea is rich in polyphenols -- a class of antioxidants that counteract cell damage done by free radicals, which have been known to contribute to disease. Historically, green tea has been used in traditional medicine as a stimulant, diuretic, astringent and heart tonic, and to treat gas, high blood sugar and poor digestion. Green tea contains caffeine, so you may experience side effects. Consult with your doctor before drinking it if you're taking medications or have a medical condition.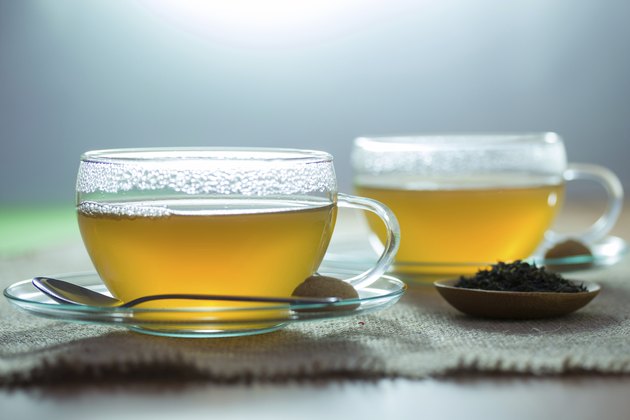 Green Tea Affects Hydration
Caffeine has a dehydrating effect since it's a diuretic. If you don't drink enough water to counteract this effect, fluid could be withdrawn from your bowels, causing hardened stools and constipation. Staying hydrated also offers other benefits -- it keeps your skin healthy, helps your liver function and helps remove toxins via your urine. To avoid dehydration, consume 11-plus cups of fluid -- from food and beverages -- if you're a woman, or 15-plus cups if you're a man, every day. Since foods provide about 20 percent of those needed fluids, women only need to drink about 9 cups of liquid daily and men need about 12.5 cups.
Caffeine Has a Laxative Effect
The caffeine in green tea acts as a mild laxative to get the bowels moving by causing your colon to contract and push things forward. This is called a gastrocolic reflex, and its effect is most intense after eating the first food of the day. Green tea may stimulate your bowels, especially when you drink it first thing in the morning.
Caffeine Safety
Caffeine should be consumed in safe amounts since an overdose has serious health ramifications. An 8-ounce cup of green tea contains about 25 milligrams of caffeine. To avoid health risks associated with high caffeine intake, stay below the upper safety limit for healthy adults of 300 milligrams daily. It would take around 12 cups of green tea to reach this limit, so it's unlikely you will have a problem from caffeine when you drink green tea. However, if you have a medical condition, talk to your doctor about what is a safe caffeine intake for you. If you take green tea as an extract or in capsules, take no more than the recommended dose on the product label.
Healthy Serving Tips
If you'd rather avoid the effects of caffeine in green tea, you can find decaffeinated green tea. Brew green tea either hot or cold. If you like to sweeten your tea, choose a natural sweetener such as honey, coconut sugar, molasses or maple syrup instead of refined white sugar. Other sweeteners won't reduce the calorie content of your drink, but they offer trace amounts of essential nutrients not found in white sugar. No matter which sweetener you choose, practice moderation to avoid consuming too much added sugar.