Walk into any grocery store and you may get the caffeine jitters just looking at the overwhelming number of coffee brands, roasts and blends. Maxwell House Coffee, a favorite for generations, offers a full product line to suit even the most discriminating coffee drinker. If you monitor daily caffeine intake, be aware that the quantities contained in Maxwell House coffee vary by product. It's always a good idea to check the caffeine content prior to purchasing.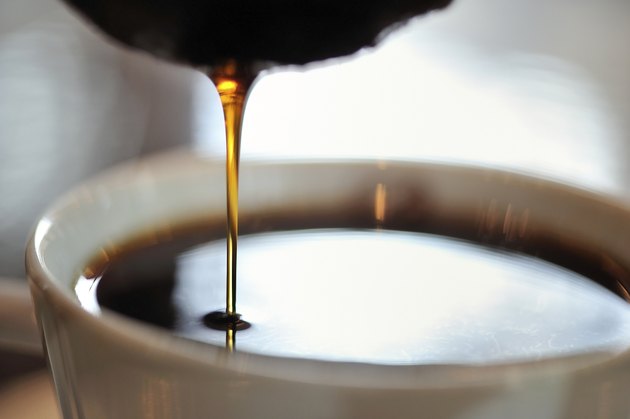 Origins of Maxwell House Coffee
Joel Cheek, a salesman from Kentucky came up with a special blend of coffee in 1874. He sold the coffee to the restaurant in Nashville's Maxwell House Hotel, which is how the brand eventually got its name. Theodore Roosevelt tasted the coffee years later and responded, "Delighted! It's good to the last drop," when asked if he wanted a refill. That phrase became part of the brand's identity, logo and advertising.
Coffee Species in Maxwell House
In 2007, Maxwell House switched from using blended arabica and robusta beans to 100 percent arabica in all products, except its instant and Master Blend coffees. The change provided consumers a richer, more flavorful coffee. Smooth tasting arabica coffee beans, exported from South and Central America, contain 0.9 to 1.7 percent caffeine, according to the Illy coffee website. Harvested in harsher environments, lesser-quality robusta beans average between 1.6 and 2.8 percent caffeine.
Caffeine in Ground Coffees
Maxwell House offers 10 choices of caffeinated, ground coffees, from mild Breakfast Blend to robust Dark Roast. Ground Original Roast is a balanced blend, appealing to a wide variety of palates. A 16-oz. serving of this medium roast contains 160 to 200 mg caffeine. According to the Mayo Clinic, an average 8-oz. cup of brewed coffee contains between 90 and 200 mg caffeine.
Decaffeinated, ground coffees from Maxwell House include mild Master Blend, medium Original Roast and hearty French Roast. Ground Original Decaf tastes like its regular medium-roast counterpart, sans the stimulating effects of caffeine. Original ground decaf has between 5 and 15 mg caffeine per 16-oz. serving. Mayo Clinic lists an 8-oz. cup of decaffeinated coffee as having 2 to 12 mg caffeine.
Caffeine in Convenience Coffee
Maxwell House Filter Packs consist of pre-measured, ground coffee designed for use in automatic drip coffee makers. Each convenient packet brews 4 to 6 cups of coffee. The Kraft Foods website says a single 6-oz. serving of Maxwell House Filter Packs contains between 55 to 60 mg caffeine.
Caffeine in Specialty Coffee
Maxwell House also makes a line of specialty flavored coffee mixes, including Original, Toasted Hazelnut, Cinnamon Dulce and Irish Creme Cappuccino. These beverage powders are a mix of instant coffee, non-dairy creamer, sweeteners and flavorings. An 8-oz. serving of International Irish Creme Cappuccino contains 45 to 50 mg caffeine.