Piriformis syndrome is a condition in which you suffer severe pain starting in the center of your buttocks and, often, radiating down the back of your leg. These symptoms can be accompanied by numbness and tingling, because with this syndrome, your piriformis muscle in the center of your buttock impinges the sciatic nerve. Understanding which exercises can help and which can alleviate your piriformis syndrome symptoms can guide you in developing your workout routine.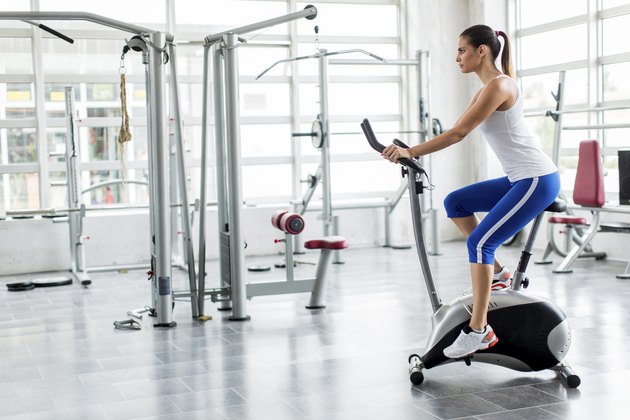 To Bike or Not to Bike?
The truth is, every person with piriformis syndrome responds differently to various exercises and this can be based on your body's particular anatomy, your body mechanics and the specifics of the bicycle you are using. While it may seem a lower-stress exercise, using the recumbent bike may actually cause symptoms because of the increased hip extension. If you struggle to use the recumbent bike, then switch to an upright bike or even a spin bike, but remain seated because upright, standing cycling will probably cause more pain.
This Seat's Just Right
Take care to make sure that the height of your seat is adjusted properly as the wrong height often exacerbates the symptoms of piriformis syndrome. Position your seat to make sure that your knees bend to 90 degrees at the most and that your legs almost fully extend, but do not overreach. Overreaching can place strain on your knees. An over-flexed or over-extended position can agitate your piriformis muscle, so moving within the mid-range is vital.
Other Alternatives
Although it may be tempting to step away from exercise when you have piriformis syndrome, exercise is actually one of the recommended interventions to reduce and prevent symptoms. Once you are cleared by your doctor to participate in exercise, add abdominal and back-strengthening exercises to help protect your sciatic nerve. Consider brisk walking or using the elliptical as these may be less likely to exacerbate your syndrome as compared to cycling. You can also use these other types of cardio as a way to improve your overall conditioning before reintroducing cycling.
Relaxation and Stretches
The pain from piriformis syndrome usually causes more muscle spasms in the buttocks muscles, which further impinge the sciatic nerve, causing your symptoms to skyrocket. Because of this, it is essential that you add relaxation and stretching to your exercise bicycle routine to help reduce your symptoms. Start your program with a few minutes of yoga, focusing on breathing and muscle relaxation. The King Pigeon pose is an excellent stretch to help you to focus on your piriformis muscle. During your exercise routine, if you experience symptoms, discontinue exercise and use stretching and relaxation to help control your symptoms.
When to See Your Doc
Piriformis syndrome can be a very serious and debilitating condition, and depending on the severity of your symptoms, exercise may be completely contraindicated. See your physician if you have severe pain, numbness, tingling or difficulty walking. Because this syndrome involves nerves, you can suffer permanent damage and may need physical therapy before starting exercise again.