Numerous studies have linked drinking red wine to the prevention of heart disease and other conditions, but grape juice has many of the same benefits. Better still, grape juice is suitable for children and people who can't drink alcohol. Dieters can also breathe easier, because you can reap the benefits of grape juice without having to consume massive amounts of calories, in most cases.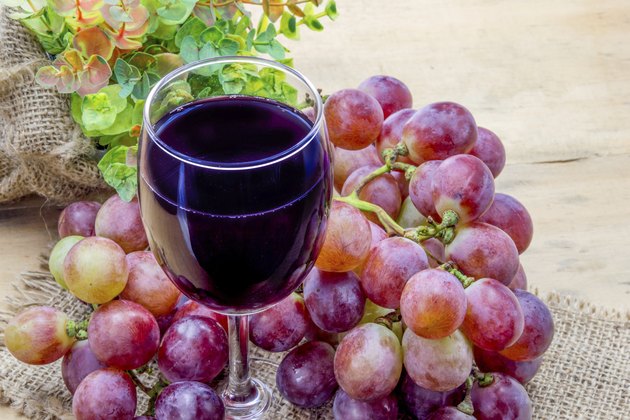 Grape Juice Nutrition
Grape juice is a good source of vitamins B-6, C and thiamin, as well as the minerals manganese and potassium. Its primary benefit, however, comes from polyphenol flavonoids, which are antioxidants that fight harmful free radicals in your body that can damage cells and cause disease. In a study of 13 types of juice at Scotland's Glasgow University, published in 2007 in the "Journal of Agricultural and Food Chemistry," grape juice came out on top with the highest and broadest range of polyphenols and the best overall antioxidant rating.
Blood Clots
Grape juice can help lower your risk for developing blood clots that can cause heart attacks. Researchers at Georgetown University reported in a 2001 issue of the journal "Circulation" that grape juice decreases the clumping of platelets that form clots in arteries. It also boosts nitric oxide that protects the artery lining and keeps arteries from clogging. However, the study noted that it would take approximately six 8-oz. glasses of grape juice to equal the same anti-clotting benefits of two glasses of red wine.
Heart Health
Grape juice flavonoids help prevent the oxidation of harmful LDL cholesterol in your body, a process that can cause the buildup of plaque in arteries and lead to atherosclerosis. In a study published in the journal "Circulation" in 1999, scientists had 15 patients with narrowed arteries drink 7.7 to 1.2 mL of purple grape juice per kg of body weight for 14 days, or roughly the equivalent of one 8-oz. glass. Tests showed the juice significantly reduced LDL oxidation in the patients and that blood was flowing more freely in their arteries. Alternatively, a study published in the "Journal of Nutrition" in August 2005 found that using 1.26 oz. of grape juice powder mixed in water was also effective at lowering cholesterol.
Immune System
At the University of Florida, 85 adults received 12 oz. of purple Concord grape juice for nine weeks. The results, published in the "Journal of Medicinal Food" in 2011, found that the subjects consuming the juice had an increase in gamma delta-T immune cells, a type of cell that detects toxins and puts your immune system on red alert.
Brain Booster
Older adults with memory decline drank 15 to 21 ounces of a 100 percent Concord grape juice daily for 12 weeks, in research at the University of Cincinnati reported in the "British Journal of Nutrition" in March 2010. The grape juice led to a significant improvement in list learning and recall and in spatial memory, versus a control group that did not receive the juice.
Considerations
One study found a potential downside to drinking grape juice. Researchers with the U.S. Department of Agriculture noted that grape juice can inhibit the uptake of iron in vitro and could increase the risk for anemia. However, human trials have yet to confirm these results. If you have special health concerns, check with your doctor about adding grape juice to your diet. Registered dietician Ruth Carey recommends using one to two servings of juice every day as part of your five to nine servings of fruits and vegetables.