Blood clotting is necessary for preventing hemorrhages once you've been cut or bruised. Certain nutrients are essential for your body to carry out the process of blood clotting, and you can get these nutrients from eating a balanced diet. Certain medical disorders can interfere with your blood's tendency to clot properly, so consult your doctor if you have abnormal bruising or bleeding.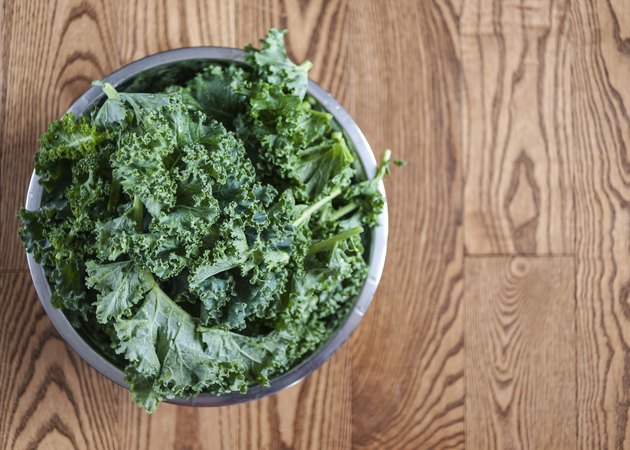 Leafy Greens
Leafy green vegetables are among the best sources of vitamin K, which is named for the German word for "coagulation," according to the Linus Pauling Institute Micronutrient Information Center. The primary function of vitamin K in your body is as an essential component in the coagulation cascade, or series of steps that leads to blood clotting. A serving of spinach, broccoli, kale, parsley or chard each provides at least 100 percent of the daily value, and you can also get vitamin K from soybean oil.
Dairy Products
Dairy products can help your blood clot because of their calcium. Calcium is an essential mineral at seven different points in the coagulation cascade that results in blood clotting once you've cut yourself, according to the Linus Pauling Institute Micronutrient Information Center. Milk, cheese and yogurt are rich sources of calcium, and other good sources include canned salmon and sardines with the bones, as well as calcium-fortified orange juice, cereals and soy products.
Sources of Niacin
Niacin, or vitamin B-3, is an essential vitamin for nearly all reactions in your body that require energy, including the reactions leading to blood clotting. In the vitamin K cycle, niacin is present in the form of nicotanimide adenine dinucleotide (NAD) or nicotinamide adenine dinucleotide phosphate (NADP), according to the Linus Pauling Center. A variety of foods, such as poultry, meat, fish and beans, are natural sources of niacin, and fortified breads and cereals are also good sources.
Less Healthy Foods
Too much blood clotting inside your body can lead to dangerous conditions such as a stroke. You are at higher risk for strokes when you are overweight or have diabetes, according to the Mayo Clinic. High-sodium foods, such as canned soups, fast foods, processed meats and other prepared foods, increase your chances of having a stroke. Saturated fat and cholesterol can also make your blood clot, and sources include fatty meats, full-fat cheese, egg yolks and butter.