When your body produces too much stomach acid the acid enters your esophagus, you may experience ulcers or heartburn. If these conditions happen too often, your health may decline dramatically. People often drink milk to provide relief for heartburn and decrease stomach acid production. While this practice may temporarily decrease stomach acid, it does not treat the underlying cause of the acid reflux.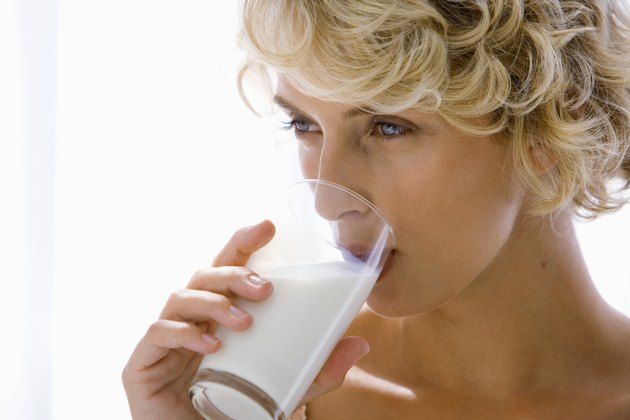 Milk's Protein Benefit
The protein content of milk helps strengthen and heal the digestive tract. Milk proteins, along with the proteins found in fish, poultry, legumes and animal products help strengthen the muscles of your esophagus to help prevent acid reflux, according to the University of Maryland Medical Center. Skim milk and reduced fat milk are the best option if you are suffering from recurring heartburn, because foods high in fat often increase acid reflux by increasing your stomach acid production, explains to Dr. Frank W. Jackson of Jackson Siegelbaum Gastroenterology in Pennsylvania.
Symptom Relief
Sips of milk help sooth symptoms of heartburn and ulcers caused by excess stomach acid production. Unfortunately, drinking too much milk causes your stomach to increase its acid production and eventually worsen your symptoms, warns Gloria Tsang, a registered dietitian for HealthCastle.com. UMMC advises that you limit your intake of milk and other dairy products to less than three servings a day to help control stomach acid production.
Lifestyle Changes
While a few sips of milk may help control symptoms caused by excess stomach acid, other changes to your diet and lifestyle may help even more. Lifestyle changes that may decrease symptoms caused by excess stomach acid production include reaching or maintaining a healthy weight, staying upright for 30 minutes after eating, wearing looser clothes, avoiding tobacco use, elevating the head of your bed by 6 inches, and practicing relaxation techniques to decrease your stress levels.
Dietary Changes
Dietary changes that help minimize stomach acid production include eating smaller meals, avoiding chewing gum, and limiting your consumption of hard candy. If certain foods, such as fatty foods, tomato sauce, garlic, citrus fruits, peppermint, oils, creamed soups, fast foods, carbonated soft drinks, fried foods, spicy foods, onions, chocolate, alcohol or caffeine, trigger your excess stomach acid symptoms, avoid them as much as possible.
Warning
While excess stomach acid production doesn't usually lead to serious medical conditions, left untreated it can damage your esophagus, stomach or intestines. If changes to your diet and lifestyle fail to alleviate your symptoms within three weeks, you lose weight unintentionally, you have problems swallowing, your symptoms get worse or you experience unexplained cough, contact your doctor.