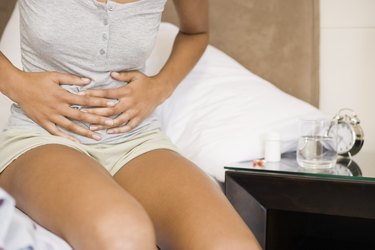 Tip
One of the most common side effects of fish oil supplements is an upset stomach, which can result in symptoms like bloating, discomfort, heartburn and nausea.
Reasons to Take Fish Oil
Unlike saturated fats, omega-3 fatty acids are fats that are good for you. You can easily obtain omega-3 fatty acids from fatty fish like salmon and shellfish or from marine plants like seaweed. It's possible to supplement your intake of omega-3s by taking fish oil. Certain omega-3 fatty acids, called DHA (docosahexaenoic acid), DPA (docosapentaenoic acid) and EPA (eicosapentaenoic acid) have been linked to health benefits.
Usually, fish oil supplements for the treatment of these issues are recommended at high doses. But high doses of fish oil, especially for people who have never taken fish oil supplements before, can cause side effects. High-dose capsules of fish oil can cause stomach aches, stomach cramps and other gastrointestinal symptoms.
Fish Oil and Upset Stomach
Omega-3 supplements, especially at high doses, can cause various gastrointestinal side effects. The most common side effects of taking omega-3 supplements are fishy breath and indigestion, and that upset stomach often leads to symptoms like bloating, burning, discomfort, heartburn, nausea and vomiting.
There are many producers of fish oil pills. The different ingredients they use can affect your symptoms. For instance, gelatin capsules have been associated with upper gastrointestinal tract symptoms, like an upset stomach. However, other types of fish oil pills, like timed-release capsules, have been linked to lower digestive tract symptoms. Fish oil can cause stomach cramps in the lower digestive tract, leading to diarrhea.
Despite these side effects, fish oil is very good for you, and some fish oil supplements have even been explored to help treat inflammatory bowel disease. Any side effects you experience are short term — they should go away when you stop taking the pills or a short time thereafter. Their consumption also won't cause any negative long-term issues.
Even so, fish oil side effects that upset your stomach can be unpleasant. Always consult your doctor about the best type of fish oil capsules to take as well as the dose of omega-3 fatty acids that is right for you. These fats contribute to the gastrointestinal side effects of fish oil, especially in high doses.