Cortisol, a hormone produced by your adrenal glands, helps your body manage the effects of stress by ensuring efficient delivery of blood sugar and other nutrients to areas in need, suppressing inflammation and promoting the breakdown of carbohydrates, fats and proteins. Your body uses certain nutrients in the manufacture of cortisol, and during high-stress times these nutrients may become depleted. Consult your health care provider about proper nutrition for restoring cortisol levels.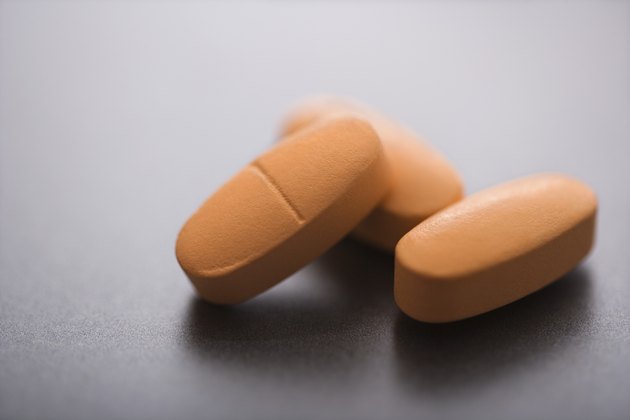 Vitamin C
Get plenty of vitamin C to support healthy adrenal glands and cortisol levels. Vitamin C supports your immune system to prevent infections and the cortisol-depleting stresses associated with them, says Ellen Phillips, editor of the book "Everything You Need to Know about Menopause: A Comprehensive Guide to Surviving and Thriving During This Turbulent Life Stage." B-complex vitamins also promote healthy cortisol levels by supporting your metabolism and ensuring good energy levels. Minerals, such as magnesium, are also easily lost when you are stressed. Magnesium is important for proper nerve and muscle function and helps prevent the stresses that may affect your cortisol levels.
B Vitamins
Pay particular attention to obtaining sufficient quantities of vitamins B1, B5 and B6 for improving cortisol levels. Vitamins B1 and B6 promote healthy cortisol levels by supporting adrenal gland function, says naturopath Peter D'Adamo, author of the book "Live Right For Your Type." Vitamin B5, also known as pantothenic acid, is easily depleted by stress, and supplementing with extra amounts during stressful times will help prevent cortisol fluctuations. Zinc may reduce your stress response and decrease cortisol levels. D'Adamo recommends 15 to 25 mg of zinc per day.
Vitamin B12
Vitamin B12 is important for proper energy levels and blood cell formation. Deficiencies in this vitamin can lead to adrenal stress and high cortisol levels or cortisol depletion as your body attempts to make up for the vitamin deficiency by using this hormone's overdrive mechanism, which is usually reserved for emergencies, illness and other stressful events. Vitamin B12 deficiency also causes hormonal imbalance, leading to decreased estrogen and progesterone levels along with increased cortisol levels, says Joseph Collins, author of the book "Discover Your Menopause Type."
Vitamin D
Vitamin D may serve a similar function to cortisol in the body, says Frank Murray in his book "Sunshine and Vitamin D: A Comprehensive Guide to the Benefits of the Sunshine Vitamin." Cortisol and vitamin D are both made from cholesterol. Since cortisol is associated with states of urgency and emergency, cortisol production will take precedence over vitamin D production. If your vitamin D levels are deficient it might signal an underlying and longstanding cortisol depletion, according to Kathryn R. Simpson, M.S., author of the book "Overcoming Adrenal Fatigue: How to Restore Hormonal Balance and Feel Renewed, Energized and Stress Free." Supplementation with vitamin D may help alleviate a cortisol imbalance.