You've probably heard that coffee is a diuretic that will cause you to lose large amounts of water, and will leave you dehydrated if you're not careful. Recent research has shown that this is not case, due to the high water content in coffee. Moderate coffee consumption can even help improve hydration if you struggle to drink sufficient amounts of water each day.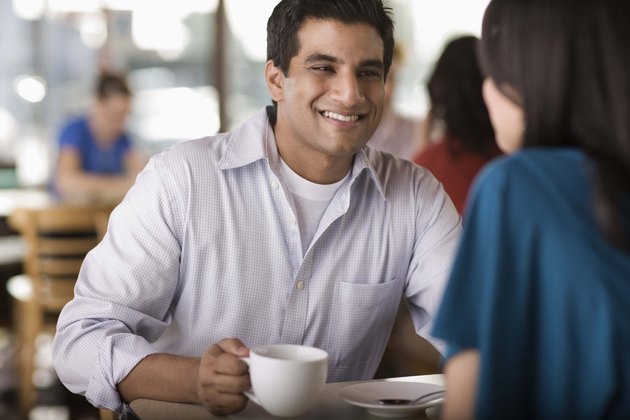 Why Hydration Is So Important
Keeping your body hydrated is one of the most imperative biological drives a human experiences. Water is so critical that within a few days without it, humans will die. Water facilitates nearly all physiological activity; among many other functions, it allows your cells to operate normally, your food to digest, and all your organs to serve their purposes. It's vital to maintain a healthy level of hydration to avoid metabolic, digestive and neurological dysfunction.
The Coffee Myth Busted
A study published in "PLOS ONE" in January 2014 found that drinking a moderate amount of coffee each day does not contribute to dehydration, as had previously been believed. Researchers compared coffee intake with water intake in healthy populations. Four cups of coffee per day -- around 800 milliliters -- did not create any significant changes in hydration when compared to an equivalent intake of water.
Coffee Can Improve Hydration
Drinking coffee in moderate amounts can contribute useful amounts of liquid to your daily intake, particularly if you find it difficult to drink the recommended amount of water each day. The Continence Foundation of Australia states that drinking tea and coffee is an important factor in maintaining optimal hydration, particularly for older people, who tend to experience greater fluid restriction than young people. They do note, however, that tea and coffee should not be the only source of fluids and that 6 cups of tea per day, 4 cups of instant coffee and 3 cups of percolated coffee should be the limit.
Other Benefits of Drinking Coffee
Aside from assisting in total daily fluid intake, the Harvard School of Public Health reports that drinking coffee has other benefits for the body. Coffee has high amounts of antioxidants, flavonoids and other protective chemical elements in it. Moderate intake has been associated with the reduced risk of developing Type 2 diabetes. Coffee is well-known for its energizing effects, and can be part of a healthy, balanced diet when consumed without sweeteners, cream or flavoring.