If you are like many people, you might drink caffeinated drinks such as coffee or tea in the morning or throughout the day to wake up and for an extra boost of energy. Some people, however, might have a higher sensitivity to caffeine and can experience intense side effects such as restlessness and excessive sweating, or hyperhidrosis.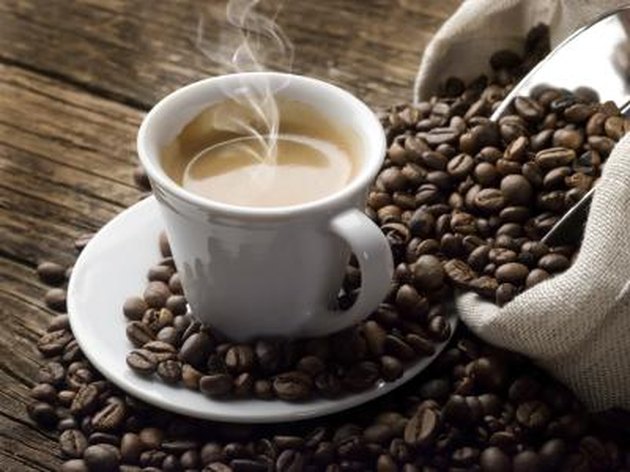 Caffeine Side Effects
Because caffeine stimulates the brain and nervous system, most people experience increased energy, alertness and concentration from it. Some people have a greater sensitivity to caffeine and can easily be overstimulated. In this case, symptoms can include restlessness, anxiety and associated symptoms such as increased heart rate, and even mood changes, such as irritability or aggression. While excessive sweating is not a common side effect of caffeine use, people with a predisposition to hyperhidrosis might find that episodes of sweating are triggered by stimulants such as caffeine.
Caffeine, Anxiety and Sweating
People with anxiety disorder or panic disorder can be particularly affected by the stimulating effects of caffeine because anxiety is directly related to the nervous system. If caffeine consumption triggers an anxiety attack or panic attack, symptoms such as dizziness, nausea, increased heart rate and profuse sweating can occur. This type of reaction is not a common side effect of moderate caffeine use, but can occur in those with a sensitivity to substances that stimulate the nervous system.
Caffeine Withdrawal and Sweating
If you consume caffeine on a regular basis, you might develop a physical dependency on the stimulating effects. People with a dependency will experience withdrawal symptoms if they try to cut back on their caffeine intake or stop using it altogether. While sweating is not a direct side effect of withdrawal, anxiety attacks are symptoms of caffeine withdrawal, and anxiety can cause marked episodes of sweating. A severe episode of caffeine withdrawal with anxiety-related symptoms could cause uncontrollable sweating.
Expert Insight
The Federal Drug Administration notes that severe side effects do not usually result from moderate caffeine consumption. If you limit your caffeine consumption to less than 300 mg per day, you should be able to avoid unpleasant side effects. If you are particularly sensitive to caffeine or struggle with anxiety, consult a doctor prior to consuming caffeinated beverages to avoid severe side effects. Likewise, if you have a daily caffeine habit and want to quit or cut back, you should do so slowly over the course of several weeks to avoid severe withdrawal symptoms such as excessive sweating.