If you see a change in your urine color, and you're taking B vitamins, don't panic. Depending on the amounts and combinations of B vitamins you take, you may experience changes in urine color. Your urine could turn orange or green. B vitamin complex may include up to eight B vitamins: B-1, thiamine; B-2, riboflavin; B-3, niacin; B-5, pantothenic acid; B-6, pyridoxine; B-7, biotin; B-12, cobalamin; and folate, the synthetic form of which is called folic acid. If you take B vitamins in large doses, you may also experience other side effects, some serious. Consult your doctor before taking vitamin B supplements or if you experience any side effects while using them. Also seek medical attention if you experience pain while urinating along with a change in urine color.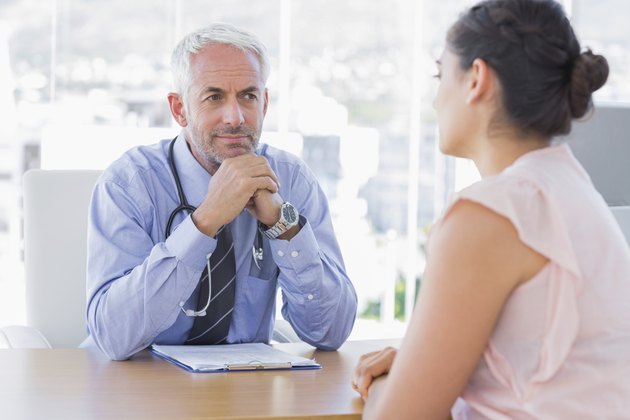 Harmless Causes
Although changes in the color of your urine may alarm you, most causes are fairly benign. If you eat rhubarb, blackberries or beets, for instance, your urine may turn red. Some laxatives, wines and anti-psychotic medications may turn your urine red. If your urine turns orange, eating carrots or winter squash as well as taking laxatives or vitamin B-2 -- riboflavin -- may be the cause. No particular B vitamin will turn your urine green, but some combinations of B vitamins found in complex formulas may. Other harmless causes of green or blue urine include asparagus and some anti-nausea and stomach ulcer medications. If your diet includes fava beans or aloe, your urine may turn dark brown.
Possible Medical Causes
Some changes in urine color signify medical problems, including two linked to overuse of B vitamins. If you have kidney disease, vitamin B-3, also known as niacin, can worsen your condition. Blood in your urine may be a sign of kidney disease, although blood can also signal such conditions as a urinary tract infection, bladder stones or kidney or bladder cancer, according to the National Institute of Diabetes and Digestive and Kidney Diseases. Taking vitamin B-3 in high doses can also damage your liver. Both kidney disease and liver disease may turn your urine dark brown. If you take more than 100 milligrams of B-3 daily, you should get your liver checked periodically. If you have any concerns about changes in your urine color, contact your doctor.
Other B Vitamin Side Effects
If your urine turns orange or green from taking B vitamins, let the change serve as a reminder to check for other possible side effects. Some B vitamin supplements contain excessive amounts of vitamins -- more than 6,000 percent of the recommended daily allowance -- and taking high amounts could cause both moderate and severe side effects. Common side effects of taking B vitamins include nausea, vomiting, diarrhea and headaches. More serious side effects -- in addition to kidney and liver damage -- include vision loss, heartbeat irregularities, blood sugar imbalances and nerve and brain problems.
Considerations
If you don't want to worry about changes in your urine color or other side effects of B vitamins, you could simply stop taking them. According to Harvard School of Public Health, it is not always easy to get all of your B vitamins in your diet. You may benefit from taking B vitamin supplements if you suffer from a deficiency or certain medical conditions, such as osteoarthritis, high cholesterol or migraine headaches. Persons susceptible to developing deficiencies in one or more B vitamins include vegans, adults older than 50, persons who drink excessive amounts of alcohol, anyone with a malabsorption condition and women who take birth control pills. If you believe B vitamins might benefit you, talk to you doctor about risks, benefits and appropriate doses.