Muscle soreness is common after working out. Fatigue and soreness occur when you work out harder than you normally do or longer than you are accustomed to. These feelings indicate that you are using your muscles to gain strength and endurance. Difficulty walking and severe thigh pain however is not a sign of normal use and indicates extensive injury to the major muscles of your legs.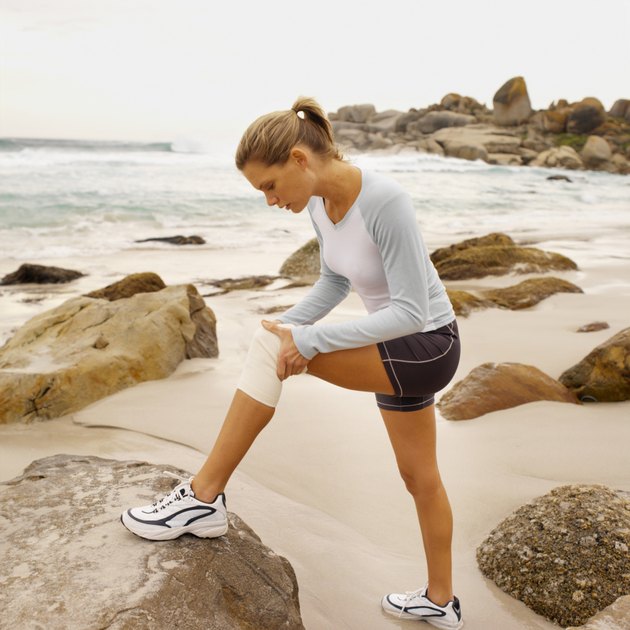 Quadriceps Pain
Pain at the front of the thighs involve the large quadriceps muscles. These support and move the upper legs. Your quadriceps enable you to extend your knees and they also help to stabilize your hips. Injury to this muscle may be indicated by bruising after working out or by sharp pain noticed when you extend your knee. The injury may be to either leg or both and walking as well as arising from a seated position may be quite painful.
Hamstring Injury
The hamstrings are a group of three large muscles that extend from the bottom of your buttocks to just above the back of the knee. These muscles enable you to flex your knees, extend your hip as well as stabilize your pelvis. Injury to these muscles can severely impact your gait as you may experience great pain while trying to flex your knee in order to lift your feet to take a step. Bruising may be noted to either hamstring or both depending on the injury.
Other Muscles of the Thighs
The thigh muscles include other minor muscles including the sartorius, the vastus medialis, gastrocnemius and solius. These muscles allow your leg to move out to the sides as well as inward. Anything other than mild soreness and fatigue indicates the possibility of a severe injury to these muscles. Difficulty walking is an indication of injury.
Serious or Recoverable
While difficulty walking and thigh pain indicate an injury to the muscle besides normal fatigue and discomfort, in certain cases it can be treated conservatively at home. Ice to the affected area is indicated in the first three days after injury as well as suspension of the activity you were engaged in when it occurred. Heat treatment may be started at this time to promote the resumption of passive range of motion exercise. If you are unable to walk or bear weight on that leg or if you see a large bulge in the muscle with loss of function of a joint, seek medical assistance immediately.