The triceps, along with the biceps, are important muscular stabilizers when performing the pullup. Pullups work several muscles in the arms, shoulders and back, and the triceps are essential to this action. Pullups are different from chinups, which feature an underhand grip on the bar and emphasize exercise for the biceps. Some people may mistakenly refer to chinups as pullups. But the key difference is how you grab the bar. Gripping the bar the wrong way can greatly undermine the benefits to your triceps.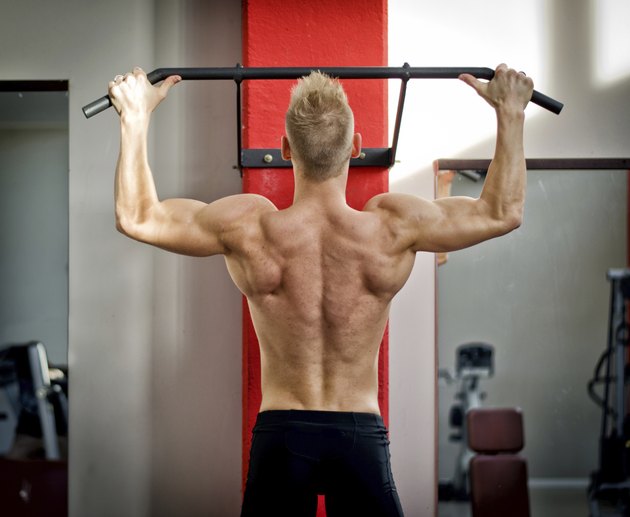 Step 1
Grip the pullup bar with your palms facing away from your body. Your thumb should go underneath the bar while your other four fingers wrap over the top. In other words, your knuckles should be pointed to the side you are standing on. Place the hands about shoulder-width apart.
Step 2
Lift your legs off the ground and let yourself hang from the bar. Your arms should be straightened out rather than flexed.
Step 3
Pull yourself upward with only your arms. Do not step on the ground or swing your legs to generate upward momentum. Continue pulling yourself up until the chest almost touches the bar.
Step 4
Slowly lower your body back to the starting position. The slower you go the more benefit your triceps will receive, since the triceps are stabilizing muscles in this exercise and are worked by having to hold a position.
Step 5
Continue performing pullups from the starting position as desired.
Tip
For increased challenge, you can move your hands very close together or much farther apart.
Warning
Check with your physician before starting any new exercise plan.