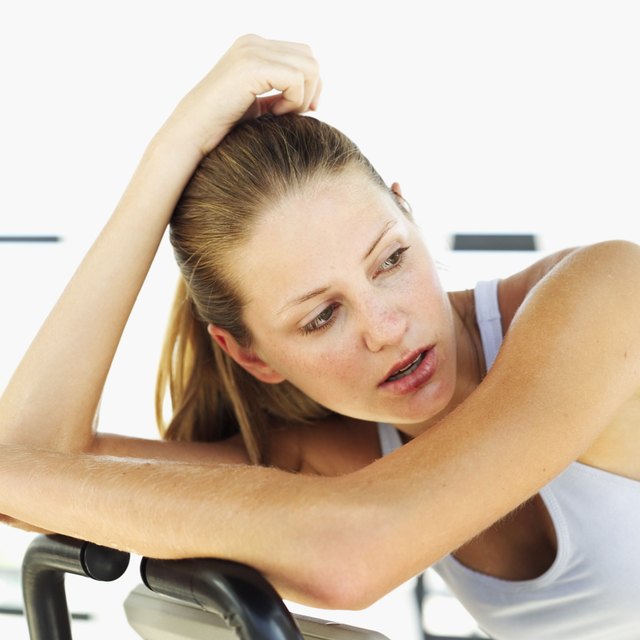 After most people exercise, they tend to feel energetic and good about their workout. However, you may feel extremely tired and have even less energy than before your workout. Weakness after exercise can be attributed to several things that you can control before going into the exercise room. Knowing what to do beforehand can help you avoid lack of energy and weakness after your workout. Consult your doctor if you continue to feel weakness over a sustained period.
Eat Your Energy
Eating a light snack before your workout can give you the much needed energy to complete your workout. If it has been more than two hours before your last meal, you may need to replenish your body with a simple carb food like a yogurt or piece of fruit to continue your energy stores while exercising. Even adding a bit of protein such as peanut butter on wheat toast with sliced banana makes a tasty snack that will keep you going in the gym or outside.
Lift Low Blood Sugar
An important source of energy for the body, glucose gives you the boost you need to complete activities throughout your day. When you do not consume enough through the foods that you eat each day, you can develop low blood sugar which causes you to feel lethargic and weak. When you exercise, your body uses the glucose stores as energy. With the combination of the low blood sugar and exercise, you will feel extremely weak and tired during and after exercising. Eating small meals throughout the day can keep your glucose at normal levels and give you the food energy needed for exercise.
Cool Clear Water
Dehydration occurs when you give out more water than you take into your body. During the day, we lose water or fluids through perspiration, urine and breathing. If you do not take in enough water to replace what is lost, dehydration begins to occur. Your body responds to the lack of water that it desperately needs to function by starting to feel weak and tired immediately after exercising. Giving your body plenty of water before, during and after exercise will keep your body's core temperature lower and increase your sweat rate so your body can adjust during prolonged exercise periods.
High Intensity Workout
Exercising at a high intensity for a long time can make even the most avid exerciser feel tired. When you exercise your body burns not only calories, but carbohydrates, protein, fats and glucose. If your body does not have sufficient stores to complete your exercise routine, you may begin to tire and feel exhausted at the end of your workout. Give your body sufficient time to recover from your previous workout and replenish your body with water and healthy meals during your day.