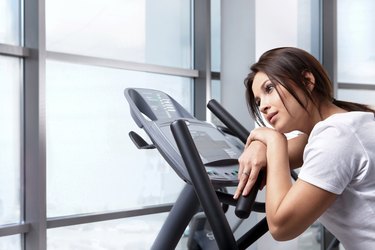 To reap the most benefits from exercise, you must listen to your body. If you begin feeling jittery during or after your workout, several factors could be to blame. You could be experiencing hypoglycemia, which occurs when there is a drop in blood glucose levels, or dehydration. Jitters may also be caused by working too hard or increasing your intensity level without the proper warmup. By incorporating several additional steps before and during your workout, you can prevent that shaky, jittery feeling that strikes after exercise.
Step 1
Eat breakfast if you exercise in the morning. Breakfast should ideally be eaten one to two hours before exercise. If this is not an option, eat a light breakfast high in carbohydrates, such as a banana or whole-wheat toast.
Step 2
Snack right before or during your workout. Yogurt, energy bars, granola bars, crackers with peanut butter or fresh fruit all make excellent pre-workout snacks.
Step 3
Enjoy a post-workout snack, such as string cheese and crackers, yogurt and fruit, nuts or a peanut butter sandwich. If possible, eat a balanced meal containing protein, starch and vegetables within two hours following your workout.
Step 1
Drink 3 to 8 ounces of water every 15 to 20 minutes during exercise when you are exercising for 60 minutes or less. This tip, recommended by the American College of Sports Medicine, is necessary for optimal hydration during exercise.
Step 2
Consume 8 to 12 ounces of water 10 to 15 minutes before your workout. The American College of Sports Medicine explains that this helps ensure you are hydrated before your workout session.
Step 3
Choose a sports drink if exercising for more than 60 minutes. This not only enhances hydration, but also provides your body with necessary electrolytes and carbohydrates. The American College of Sports Medicine recommends drinking 3 to 8 ounces of sports drink every 15 to 20 minutes during exercise.
Step 1
Prevent overexertion by paying attention to your body. If you begin to feel shaky, take a break.
Step 2
Maintain your optimal target heart rate, which is generally 50 to 75 percent of your maximum heart rate. ACE Fit offers an online target heart rate calculator to help you get started if you need to determine your target heart rate zone.
Step 3
Warm up and cool down at the beginning and end of each workout. Your warmup should consist of at least five minutes of slow activity before slowly building up to your desired level of intensity. A five-minute cool down is recommended after your work out to stabilize your heart rate and blood pressure.
Step 4
Start slowly if you are new to exercise. Each day, perform several minutes of low-intensity aerobic exercise, such as walking. As your fitness level increases, gradually extend the amount of time you spend exercising.