The length of time it takes to correct a potassium deficiency varies from person to person, so it's difficult to give a definitive answer that applies to everyone. First, the cause of the deficiency must be diagnosed and corrected if you hope to maintain an optimal level of potassium in the body. From there, a doctor must take a blood sample to establish the severity of your deficiency, which can help determine the amount and form of potassium needed. Always talk to your doctor before taking a potassium supplement, particularly when dosages are more than those found in multivitamins, which is no more than 99 mg.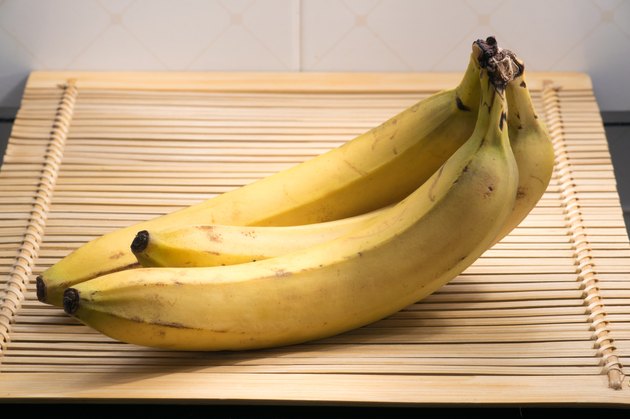 Amount
Your diet should consist of at least 4.7 g — or 4,700 mg — of potassium each day, advises the Linus Pauling Institute of Oregon State University. Look for potassium in foods, such as red meats, chicken, fish, soy and dairy. Other sources include oranges, limes, lemons, grapefruits, kiwi, bananas, apricots, cantaloupe, broccoli, spinach, peas, sweet potatoes, tomatoes and potatoes.
Serum Potassium
Most people have a blood potassium level of anywhere between 3.6 and 4.8 mEq/L, according to MayoClinic.com. As levels drop below this range, you may begin to suffer from hypokalemia, or low potassium. Low potassium, however, is rarely caused by diet. Instead, another factor is usually contributing to the condition. Some of the more common include the use of diuretics or laxatives, prolonged bouts of diarrhea or vomiting, anorexia, bulimia, kidney diseases, congestive heart failure or metabolic disturbances.
Supplement
Supplementing the diet with potassium isn't often recommended. Even if you're not getting enough of this mineral in your diet, do not use a potassium supplement to meet your daily allowance, unless under the supervision of a medical professional. Although your kidneys are quiet effective in removing an excess of potassium from your body, high doses of this mineral can sometimes lead to hyperkalemia, or elevated potassium levels, which can cause muscle weakness, abnormal heart rhythms and cardiac arrest.
Deficiency
Correcting a potassium deficiency may not take much time once the cause of the condition is determined. Potassium is readily absorbed in the small intestines, according Dr. Elson Haas, Director of the Preventive Medical Center of Marin. Haas explains that potassium has 90 percent absorption, so you may see an improvement soon after supplementation. In fact, a single high dose of potassium of more than 18 g can lead to severe hyperkalemia, warns Linus Pauling Institute, suggesting that absorption and assimilation if this mineral occurs rather quickly. Follow your doctor's instructions when correcting this or any other nutritional deficiency.